BTN.com staff,

April 8, 2016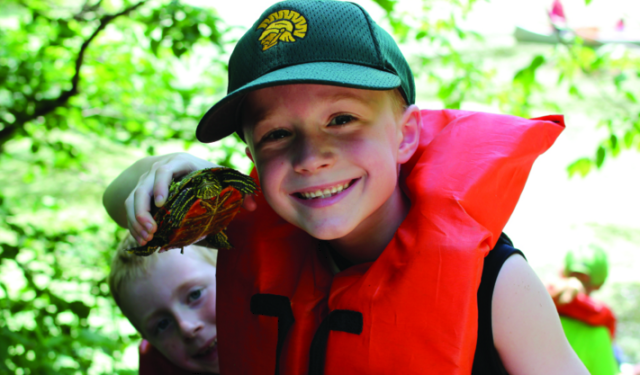 For these Iowa campers, no two days are ever the same. One day they might be observing red-tailed hawks in the wild and unraveling the intricacies of woodland ecology, and the next they might be off on a canoeing or rock-climbing adventure, or mastering the finer points of campfire cooking.
The list goes on and on, and it?s all possible at the University of Iowa?s summer wildlife camps.
?We combine the best of environmental education with recreational activities,? said Meredith Caskey, an assistant director of recreational services at the university. ?I always say that we?re set apart from other camps because we?re doing all the fun summer-camp things, like canoeing and archery, but we?re learning along the way too. If we go on a bug hike, we?re not just catching bugs, we?re looking at the anatomy. We?re talking about the adaptations that make that animal special and then how it connects to the natural world.?
Since 1991, the University of Iowa has operated the camps at the MacBride Nature Recreation Area, a 485-acre peninsula surrounded by Lake MacBride and the Coralville Reservoir located roughly 15 miles north of campus. From its humble beginnings as a single-day camp for a few dozen campers, 14 distinct camps - each catering to a certain area of study - now comprise the program.
Youngsters in the Beak Brigade focus on the wild world, observing spiders, songbirds, squirrels and plants that inhabit the region. Older campers can partake in the Peregrinatio Per Iowam (Latin for ?A Journey Through Iowa?) where they?ll paddle down the Upper Iowa River while studying the flora and fauna that call the area home.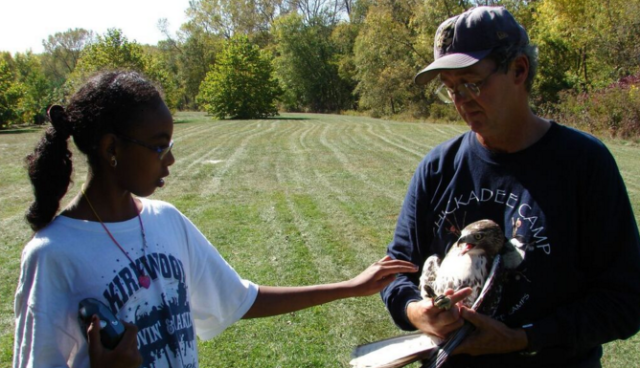 That access to a diversity of ecosystems is a hallmark of the camps and one of their main teaching tools, Caskey said.
?We have prairie, some woodlands, upland and lowland, some ponds, the lake and the reservoir,? she explained. ?Anytime you?ve got that edge, that overlap between prairie and wetlands, or woodlands and wetlands, that ecotone is really a dynamic place to see plants and animals because they benefit from both of those habitats.?
Students at the University of Iowa also benefit from having the camps in their backyard. Some work there over the summer months, and others volunteer in conjunction with their field of study.
[btn-post-package]As Caskey pointed out, many students in the College of Education serve as counselors at one or more of the camps as part of their practicum, gaining exposure to alternative-education techniques and environmental education. And while much of what they learn shapes their future as teachers, sometimes the college students help direct the course of the camp.
?They?ll bring lessons out to us and try to enhance our learning that?s taking place with new ideas and new experiments,? Caskey said. ?A couple of years ago, some students got a grant and brought out these big weather balloons that had GoPros on them, so we got a bird?s eye view of the MacBride area.?
Ultimately, the camps instill in the children a passion for learning about their world. Nowhere is that more evident than in the junior high school camps, where kids have the opportunity to focus their summer around a research project. Those projects are often drawn from the kids? prior camp experiences.
?Let?s say they did Eagle Camp when they were younger,? Caskey explained, ?and they really liked the wetlands where they can catch and observe turtles and frogs. Well, they can focus in on those wetlands, or maybe they want to focus on frogs. They?re going to get the opportunity to revisit some of the places they went to as a younger camper.
?Our hope is they present their findings to the younger campers at the end of the week. That excites the younger campers, and they say, ?Oh wow, I didn?t know that about frogs.? There?s a lot of pride in the older campers when they do get to show off their knowledge. It?s brand new information that they learned from being out there and doing the activities. All that we ask is that they show off their best self.?
By John Tolley