BTN.com staff,

March 3, 2016

A revolution in teacher education is taking place on the campus of the University of Iowa. And the epicenter is the not-so-humble N110 space in the College of Education?s Lindquist Center.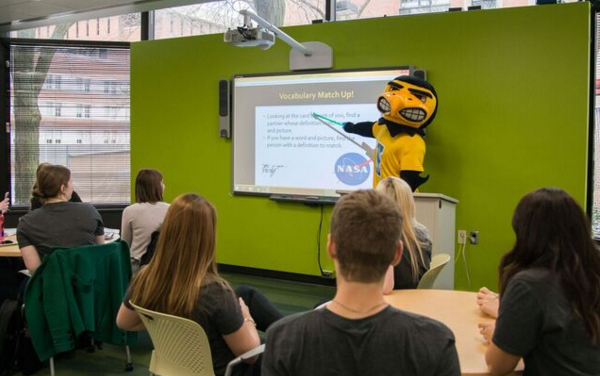 According to Christopher Morphew, executive associate dean for research and innovation, the newly redesigned suite is a hub that brings four of the college?s academic support offices together under one roof.
?We wanted a space where the offices associated with our teacher education program could better collaborate on issues related to teacher leadership and the integration of technology into [education students?] learning and, eventually, their own classrooms,? Morphew said.
Home to the Linda Baker Teacher Leader Center, the Education Technology Center, ISERVE (Iowa Supports Education and Resources for Veterans and Enlisted) and ICATER (the Iowa Center for Assistive Technology Education and Research), N110 provides collaboration in the fields of accessibility, technology and leadership across the College of Education.
Incorporating Accessibility
?The space incorporates principles of universal design in several important ways,? said Morphew, who added that making N110 ?accessible to all members of our community? was paramount.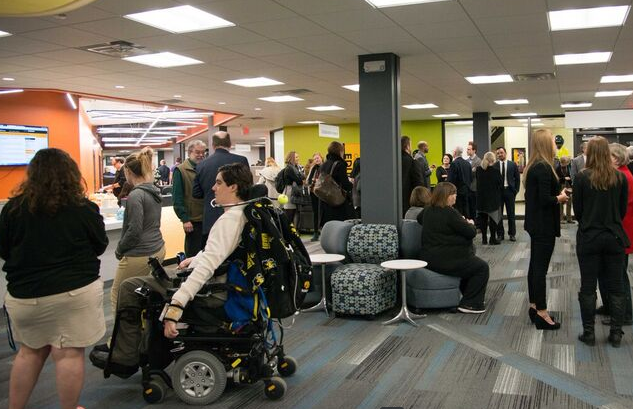 A guiding ethic in the plans for N110, accessibility serves a dual purpose in the suite. Not only is the space more convenient for all students enrolled in the college, but it serves to showcase how classrooms will be outfitted for universal access in the future.
To that end, ICATER?s onsite lab provides students hands-on experience with a number of assistive hardware and software technologies. Hearing loops allow individuals with hearing aids or cochlear implants to directly access a PA system. Other features include adjustable-height desks for wheelchair users and screen-reading software for the visually impaired.
Technological Connections
Facilitative technology extends to the adjacent Iowa Technology Enhanced Classroom (ITEC), which harnesses ?the expertise of our faculty, engineers and leading architects towards creating a learning space that revolutionizes the way we teach and our students learn,? said John Achrazoglou, director of the Education Technology Center.
ITEC includes an array of more than a dozen cameras and microphones that facilitate an environment of engagement for both on- and off-campus students. Similarly, Internet-capable SMART whiteboards can bring in-class notes and presentations directly to students? laptops and mobile devices.
?The room has been designed to enrich our students? experience by having them connect with content, other students and people in new, exciting ways,? said Achrazoglou, who also serves as the college?s Chief Technology Officer. ?[ITEC] will give our students the experiences needed to succeed in a world marked by interdependence, diversity and rapid change.?
Unique Leaders
?We produce a unique teacher-leader graduate,? said Morphew when asked what sets UI?s education program apart from others.
The Teacher Leader Certificate program, overseen by the Linda Baker Teacher Leader Center, consists of both in-class and field components. Students must complete six workshops in the form of intensive boot camps, online learning modules and site-based immersion clinics, among others.
In addition, students perform 40 hours of community-based volunteer work, lending a hand to organizations such as Habitat for Humanity and the Iowa Children?s Museum.
Reflecting on the promise of the N110 space, Achrazoglou said he is most excited by the ?thrilling future it promises.?
?Our students,? he said, ?will be able to leverage technologies and modern teaching strategies to meet the demands and expectations of tomorrow?s leaners, and the globally interconnected world we live in.?
By John Tolley