Shelley Till, BTN women's basketball analyst,

January 26, 2016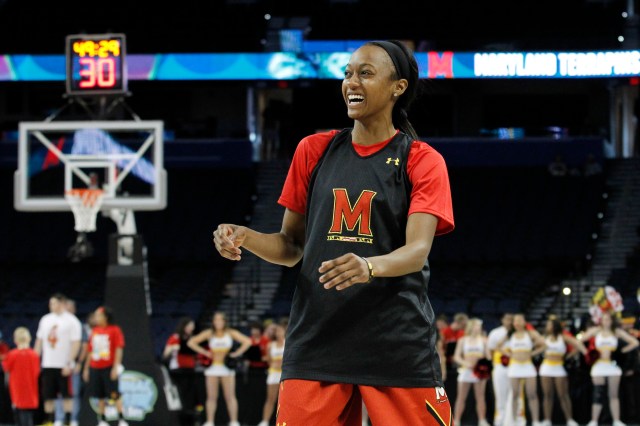 As we approach the end of January, it may be cold outside, but a few Big Ten teams are heating up! This week we take a look at who?s hot, and who?s not?
Who?s hot?
Two teams are currently on five-game winning streaks: Maryland and Nebraska.
The Terrapins? offense is currently ranked fourth in the NCAA and, over their current streak, they?ve revved up on both ends of the floor with a commanding +21.8 average margin of victory. Their only hiccup thus far in Big Ten play was vs. the third-ranked offense in the country, the Ohio State Buckeyes. However, the Terps get a chance at payback on Feb 8, when they travel to Columbus. One reason for their current streak is their scorching hot 3-point shooting. Maryland is shooting 48 percent from beyond the arc, well above their conference-best 43 percent overall. Junior Shatori Walker-Kimbrough, who currently leads the nation in 3-point field goal percentage (59.4), has been a key factor in the leap. Her career-best 6-of-6 from deep came during their last game vs. Wisconsin. Overall she is averaging 17.7 points, 5.2 rebounds, 3.3 assists and 2.2 steals per game.
After starting the conference season 0-3, the Huskers have turned red hot going 5-0 in recent games. The big reason why? Freshman Jessica Shepard. If it seems like you?re hearing her name every week, it?s because you are. She is a program-changer! During Nebraska?s hot streak, Shepard has been phenomenal, averaging 27.4 points, 12.6 rebounds, 1.8 assists and one block per game. In their opening three losses, she averaged 15.3 points and 10.0 rebounds. Most recently, she scored 35 points and had 20 rebounds in a win at Michigan. That performance resulted in her eighth Big Ten Freshman of the week honor, to go along with a couple National Player of the Week accolades (espnW/College Sports Madness).Shepard?s performance isn?t the only thing heating up. Nebraska?s improvement on the boards is significant, going from minus-18.7 rebound margin to a +1.8 difference in wins. Another spark is the insertion of Rachel Blackburn. She may not pad a stat sheet, but her energy and ability to get defensive stops has fueled Nebraska?s revival.
***
Who?s not?
Northwestern and Iowa have stumbled as of late, both riding three-game losing streaks. If you find yourself scratching your head why, you?re not alone. These two teams started strong and have now plummeted out of the AP rankings.
Iowa has fallen victim to road losses at Michigan and Purdue, and perhaps most surprising is its home loss to Penn State. The Hawkeyes have struggled to really find a consistent identity in conference play. This is a team that traditionally hangs its hat on assists, taking care of the ball, and shooting well from beyond the arc. All three categories have seen rapid declines. Currently, the Hawkeyes sit in last place in turnover margin, and are tied for last with a 0.8 assist/turnover ratio. It?s no secret that when turnovers are plaguing a team, then the importance of everything else escalates. Great defense can often overcome lost possessions. However, the Hawkeyes? last three opponents have shot an average of nearly 50 percent from the field.
Northwestern is a team that can pack a punch with multiple scorers (five average double figures in league play) and the ability to push the pace of the game. They also boast the nation?s best defending guard in Ashley Deary, who leads the NCAA in steals. Combine that with her ability to distribute the ball, and her lightning quickness, and you?re left asking ?What?s up with the Wildcats?? They can obviously put points on the board. What is lacking is a consistent ability to slow their opponents and identify shooters at key times. They?ve also struggled to take care of the ball and shoot the three in their 5 losses.