Tom Dienhart, BTN.com Senior Writer,

November 24, 2015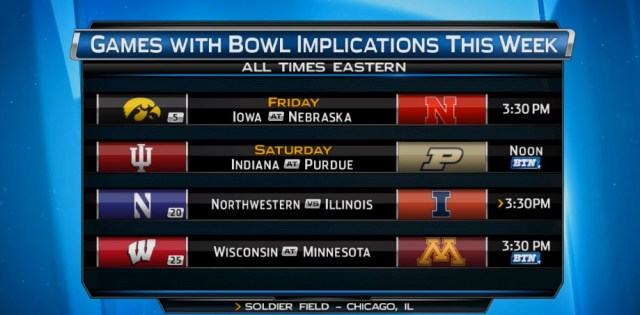 To say Nebraska has endured an adventurous season would be an understatement.
[ MORE: Week 13 previews | Week 13 scoreboard | Stats | Standings | Latest polls | Polls: Pick Week 13 winners | Power Rankings | Bowl Projections | Best of Week 13 | Mailbag | Q&A: Greg McMullen | Week 12 award winners | YouTube highlights ]

Mike Riley?s debut has been marked by some bizarre endings. There was a Hail Mary loss to BYU ? an overtime defeat at Miami ? losses to Illinois, Northwestern and Wisconsin by a total of five points. Don?t even mention the melt-down at Purdue. And on it has gone during an often-painful 2015.
But now, standing 5-6 and with one game left, the Cornhuskers are one win from a sixth victory. That would lock up a bowl bid, though Nebraska could go bowling with a 5-7 mark. Nebraska can officially punch its postseason ticket on Friday with a win vs. unbeaten Iowa, and also ruin the Hawkeyes? playoffs hopes.
I caught up with Nebraska?s 6-3, 280-pound junior defensive end Greg McMullen to get his thoughts on this wild-and-crazy season as the Huskers prep to cross the finish line and play Iowa.
Q: Nebraska has won two in a row, beating Michigan State and Rutgers. It?s the first two-game winning streak this season for the Huskers. You feeling the mojo?
A: Definitely. It was one of things where we would win one and lose one or two. But we have put together two in a row and it?s a good feeling.
Q: What has it been like dealing with the close losses?
A: Northwestern, Wisconsin, Illinois, whoever we played and lost to in the last few seconds, it was devastating. It was always one of those things of woulda, coulda, shoulda. We know where we could be right now vs. where we are. It shows we need to continue to fight.
Q: Has there been one loss that has been more difficult than another?
A: At this point, they all are devastating. It?s never just one. It?s so many. That?s the bad part. It?s not like we are losing by 30 or 40 points. It?s two points, three points, overtime, Hail Marys. Everything you could expect to go wrong has followed us. But we have picked it up as of late, which is a positive thing for us.
Q: Have you been pleased with your season?
A: Yes and no. I think I have developed and become better at some aspects of my game, but there are other parts that still need work. I moved inside (from end to tackle) for four or five games. It shows that I am versatile. There are still some things I need to fine-tune.
Q: How much does the line miss Randy Gregory?
A: You are going to miss a dynamic player like that. Any team would miss a guy like that who was a top NFL prospect no matter what position he played on the team. You have a guy projected to go high in the NFL draft and he leaves, it?s going to be a blow to your team no matter what. Other people needed to step up and others had to progress to fill that void. It?s a big void. He was a special guy.
Q: Compare this staff to Bo Pelini?s from a personality standpoint.
A: We can compare and contrast all we want. It doesn?t bring someone back or make someone else better. Bo was defensive-minded and Coach Riley is offensive-minded. They look at life through two different lenses. I have had a great experience with both of them. I was recruited by Bo. I had a great time playing for him and his staff. With the transition, it was rocky at first getting used to and adapting to a new system, practice schedule ? whatever it was. I am fully acclimated now and am enjoying it.
Q: What?s it like running out of that tunnel on Saturdays in Memorial Stadium?
A: It is an adrenaline rush. It is a feeling like no other. I told people about it when I was being recruited ? I didn?t even know how to describe it. All eyes are on you, they open up the gates and it?s a sea of red. It gets the blood pumping and the body going. It makes you want to go that much harder for the fans. It is a feeling like no other.
Q: What would it mean to beat unbeaten Iowa?
A: It is rivalry week. You want to win them all. It?s our last and final game in Memorial Stadium. It?s some of my brothers? last game there. It will be a heck of a feeling.
Q: You guys going to get to a bowl?
A: We just have to go out there and perform and make it happen. There are so many possibilities. Hopefully, we can slide into a bowl, have one more game and keep building.
Q: If the Cornhuskers finish 5-7, would you still want to go to a bowl?
A: That?s a hard pill to swallow at 5-7. That would be our record if we do lose to Iowa. If we got a bowl bid, I think we would accept it. I don?t know. I think we are better than 5-7. I don?t think 5-7 is worthy in my eyes. That?s my opinion.
***
And if you want to leave a comment on this post, use the box below. All comments need to be approved by a moderator.