BTN.com staff,

November 1, 2015

One thing that characterizes great journalists is the ability to get to the bottom of a problem. And for two former Northwestern University journalism students, their ability to do that led to more than just a great story. It prompted them to create a philanthropic organization that?s changing lives in one of the poorest countries on Earth.

With a shared interest in international reporting, Lauren Bohn and Zoe Fox turned their passion toward an investigation into why the African nation of Malawi was mired in poverty. In their inquiries, they arrived at an interesting conclusion: that bikes could give a leg-up to young girls in that country.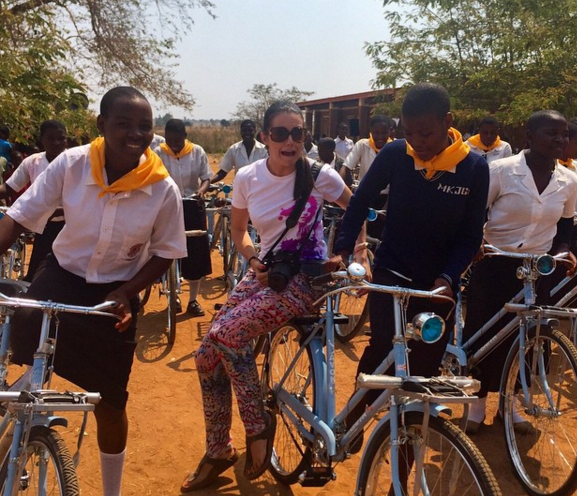 ?As a journalist, one?s currency is questions,? Bohn said. ?By asking a lot of questions - and, more importantly, the right questions - we were able to get to the crux of so many girls? difficulties in getting to school and staying in school. I don?t think we ever thought we?d arrive at bikes as an answer to complicated development questions, but such is the journey of reporting.?
The journey for Bohn and Fox as reporters-turned-humanitarians began at Northwestern?s Medill School of Journalism. Bohn earned a master?s degree in 2010 and Fox graduated from Medill with a bachelor?s degree in 2011. Interestingly, the two didn?t know each other during their time in Evanston.
Fox, who started business school at Columbia University in New York City this fall, said she first met Bohn in Zambia while they were participating in an international press fellowship sponsored by the Bill & Melinda Gates Foundation. A few months later, Bohn and Fox met again in Malawi, which borders Zambia, and they started discussing the hardships schoolgirls in that country were experiencing in their daily lives.
?Malawi is one of the poorest countries in the world,? Bohn said. ?The only time Malawi makes the news is when Madonna visits. She adopted two children from there, but people don't really know much about the southern African country, ourselves included, before we had the opportunity to report there.
?The country is roughly the size of Pennsylvania, and more than half of the population lives below the poverty line,? she added. ?The country?s life expectancy hovers around 55, and just 9 percent of people have access to electricity. Even though primary school is free, less than a quarter of girls will finish. Among those, only 9 percent will graduate from secondary school.?
But using bicycles to help solve the problem started out as something of an afterthought.
?I was writing about the use of technology in emerging markets for social change,? Fox said. ?So the bicycle was a bit low-tech for stories I was covering. And this came through the stories not as something we would write about, but something we learned about while we were reporting.?
Inspired by work they had done in Malawi on a press fellowship sponsored by the United Nations Foundation in December 2013, Bohn and Fox pitched the idea of SchoolCycle to deploy bikes to Malawian girls who habitually become dropouts because of the great distances between where they live and where they learn.
According to Fox, one girl is known to walk some 44 miles one way to school and spend the week there before taking the walk back home. With experiences like that, the idea of supplying schoolgirls with an alternative means of transportation turned out to be a logical solution for the journalists, Fox added.
?You don?t need paved roads, gasoline or electricity to charge them,? Fox said of bicycles. ?Girls traveling long distances are sexual security risks, and we saw how difficult it was for them to receive and education.?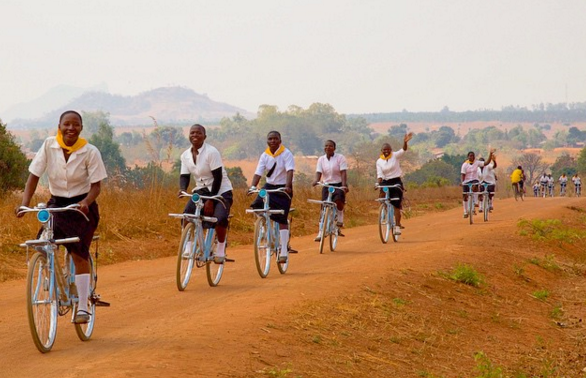 The UN Foundation?s Girl Up campaign responded to the pair?s idea, and after raising $100,000, SchoolCycle began a giveaway of more than 500 bikes last month.
Potentially becoming a part of the story didn?t seem to deter Bohn and Fox for their goal of turning SchoolCycle into a reality. The journalists penned a lengthy first-person account of their experiences in Malawi in the online edition of Cosmopolitan magazine, which ran the story on Oct. 8.
Bohn said getting this story out there is just as important to making the world a better place as supplying the schoolgirls of Malawi with bikes.
[btn-post-package]?I believe it?s our journalistic responsibility to create and effect awareness or a culture of awareness in which social change and solutions are more likely to transpire,? she explained. ?In the case of a story like girls? education in Malawi, change doesn't have to look like a reader purchasing X amount of bikes after reading a story on how girls walk prohibitively long distances to school.
?Change can mean a simple shift in how one sees the world, others or, perhaps most powerfully, themselves and their own place in the world.?
By Tony Moton