BTN.com staff,

October 26, 2015

It?s Breast Cancer Awareness Month, and the pink ribbons (and shirts, and stickers) are out in force. And the Big Ten Cancer Research Consortium (BTCRC) is commemorating the month by highlighting innovative and important work the universities of the conference are doing year-round to fight this terrible disease.

Read about some of that work below:

University of Illinois

Until now, the study of cancerous tumor cells is hindered by an important factor: environment. The most common tool for studying the growth and spread of a tumor has been a plastic plate that doesn?t mimic the human body. But recently, the University of Illinois found a solution: hydrogels, which provide a spongy, 3-D platform to observe cancer cells. To test the new method, breast cancer cells (and cells that initiate their growth) were added to the hydrogel architecture, allowing for a more accurate observation of their spread.

?Now researchers can ask more fundamental biological questions than they could [before],? explained lead materials science and engineering researcher Kristopher Kilian.

University of Nebraska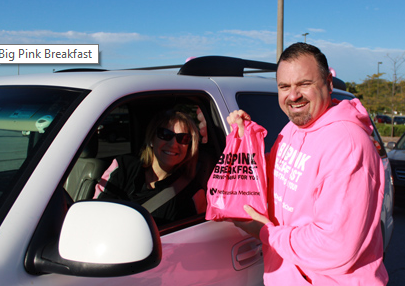 Women oftentimes put the healthcare of their families and loved ones over their own. That?s why earlier this month, Nebraska Medicine - Bellevue put women first by serving up a Big Pink Breakfast to more than 600 of them, free of charge.
This quick pick-me-up served as a friendly reminder for women to schedule their yearly mammogram. Early detection is crucial to effective treatment, said Dr. Janet Grange, and added, ?When we see breast cancer as a smudge on a mammogram rather than as a lump, we have dramatically improved outcomes.?
University of Wisconsin
?Imaging can help us tailor treatment to the exact biological properties of a tumor,? said Dr. Amy Fowler, assistant professor of radiology at the University of Wisconsin. She?s working on new mammography imaging techniques that may help determine with greater accuracy the receptiveness of a tumor to certain hormone therapies. Removing the guesswork that now plagues doctors could lead to lower rates of cancer recurrence after surgery.
Research of this type flourishes at the UW Carbone Cancer Center, Fowler added. ?The multidisciplinary approach to patient care that involves surgeons, medical and radiation oncologists, geneticists, and imaging experts is a particular strength of UW Health,? she said.
Rutgers University
Dr. Michael Gatza is part of research team at the Cancer Institute of New Jersey that worked on mapping the genome of a sub-type of breast cancer: invasive lobular carcinoma (ILC). ILC makes up approximately 10 percent of breast cancer cases, but it?s harder to detect than the more common invasive ductal carcinoma. Being able to accurately diagnose ILC growths will allow oncologists to more effectively tailor treatments for patients.
?The results of this comprehensive, molecular profiling effort provide new insight into both breast tumor biology and therapeutic options for lobular breast cancer,? Gatza explained.
Northwestern University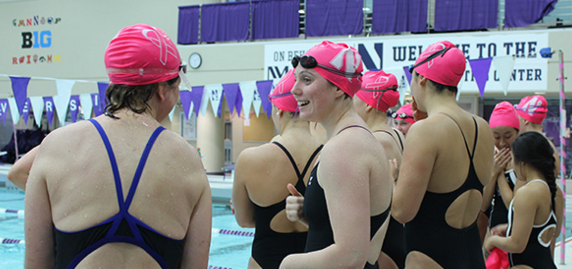 Pink swim caps filled the Norris Aquatics Center on Oct. 7 as Northwestern Women?s Swimming and Diving team hosted their fourth-annual Breaststroke 4 Breast Cancer relay swim-a-thon. Joining the collegiate athletes in the water were students, faculty and community members, who together raised money for cancer research. Additional funds came from a silent auction and bake sale.
University of Michigan
Using an inexpensive microfluidic device, researchers at Michigan are sorting cancer cells based on their ability to move throughout the body. By isolating cancer cells with the ability to metastasize, the researchers hope they can develop targeted preventative treatments.
[btn-post-package]?A primary tumor is not what kills patients,? said Sofia D. Merajver, M.D., Ph.D., scientific director of the breast oncology program at the University of Michigan Comprehensive Cancer Center. ?Metastases are what kill patients. Understanding which cells are likely to metastasize can help us direct more targeted therapies to patients.?
By John Tolley