Tom Dienhart, BTN.com Senior Writer,

October 20, 2015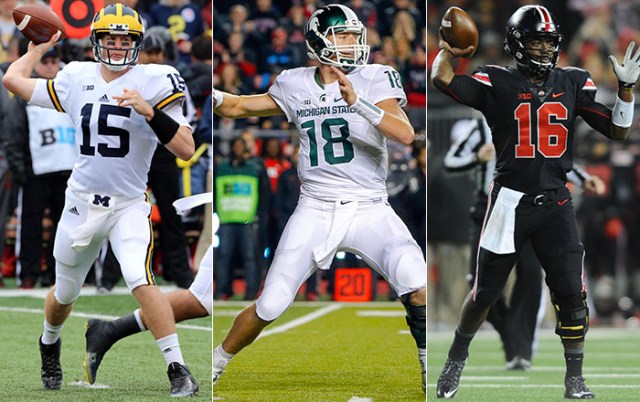 Would it be a shock to see Michigan, Michigan State and Ohio State all finish 7-1 and tied atop the Big Ten East? Not really.
[ MORE: Week 8 scoreboard | Week 8 previews | Power Rankings | Bowl Projections | Mailbag | Barrett named Ohio State starter | Watch Mark Dantonio dance | Watch OSU student do jump pass vs. Barrett | Hear your coach's teleconference | Big Ten standings | Big Ten stats | Latest polls ]
Should it happen, with the Spartans' defeat coming to the Buckeyes, and the Buckeyes' setback coming to the Wolverines, the Big Ten title game matchup wouldn't be official until four days before the big game on Saturday, Dec. 5 in Indianapolis.
That's because, under this scenario, using the conference's official tiebreakers, the tie would be broken by the final College Football Playoff Poll of the regular season, to be released at 7 p.m. ET Tuesday, Dec. 1.
Here is the tiebreaker:
The highest ranked team in the first College Football Playoff poll following the completion of Big Ten regular season conference play shall be the representative in the Big Ten Championship Game, unless the two highest ranked tied teams are ranked within one spot of each other in the College Football Playoff poll. In this case, the head-to-head results of the top two ranked tied teams shall determine the representative in the Big Ten Championship Game.
It would come down to this because the tie wouldn't be broken by the conference's first four tiebreakers.
Those are right here:
The records of the three tied teams will be compared against each other. (They all would be 1-1 vs. each other)
The records of the three tied teams will be compared within their division. (They all would be 4-1)
The records of the three teams will be compared against the next highest placed teams in their division in order of finish (4, 5, 6, and 7). (They all would be 4-0)
The records of the three teams will be compared against all common conference opponents. (They all would be 4-0)
"Having the highest-ranked teams participate in the Big Ten football championship game was a priority for Big Ten Administrators when they approved the football division tiebreak procedure which includes using College Football Playoff rankings as the fifth tiebreaker," said Mark Rudner, the Big Ten's Senior Associate Commissioner, Television Administration. "If the Conference this season will rely on the fifth tiebreaker in either the East Division or West Division, then it means we?ve had a memorable and exciting college football season."
For obvious reasons, such as logistics (travel, hotels, etc.), preparation time (West champ, likely Iowa, won't know who it will face, while the East teams would know opponent) and ticket sales (will fans of East trio buy tickets before Tuesday night?), this isn't ideal. Knowing this, would the College Football Playoff committee consider moving up the release of the poll to avoid such a situation?
I contacted Bill Hancock, the executive director of the College Football Playoff, on Monday night to ask.
His response: ?We wouldn?t move up the show.?
So, there you have it.
It will be fascinating to see how it all plays out. This potential three-way tie atop the East isn't that far-fetched, even after Michigan State?s win at Michigan last week.
Look at the remaining schedules of the top three schools:
Ohio State: at Rutgers; Minnesota; at Illinois; Michigan State; at Michigan
Michigan State: Indiana; at Nebraska; Maryland; at Ohio State; Penn State
Michigan: at Minnesota; Rutgers; at Indiana; at Penn State; Ohio State
Ohio State and Michigan State are headed for a big showdown in Columbus on Nov. 21. Each squad looks to be evenly matched and gaining momentum. It wouldn?t be a shock if either team won in the Horseshoe.
The next Saturday, Nov. 28, Ohio State plays at Michigan in what looks to be a Titanic battle in the first Urban Meyer vs. Jim Harbaugh battle. Like the MSU at OSU game, either team could win in what would figure to be a close battle between evenly matched squads.
Then again, it's only Week 8 and there's a lot of football left to be played.
"With five or six Conference games still to play, we do not rule out any teams' chances of finishing strong and challenging for their division title and a spot in the Big Ten football championship game," Rudner said.
***
And if you want to leave a comment on this post, use the box below. All comments need to be approved by a moderator.</strong