BTN.com staff,

September 24, 2015

The origin of the name ?Indiana,? which essentially means ?Land of the Indians,? testifies to the fact that the area was once home to Native Americans. And in historical terms, that time wasn?t so distant: About two centuries ago, settlements of tribes such as the Shawnee and Miami could be found throughout most of the state.

Today, Indiana University is providing resources and support to help Native American tribes - devastated by generations of war, disease and displacement - reconnect to their rich heritage. It?s something Benjamin Barnes, second chief of the Shawnee Tribe, experienced firsthand this summer.

Barnes, IU?s first-ever Summer Repository Research Fellow, recently spent two weeks in Bloomington combing through the vast archives of the Glenn Black Lab. The Ohio Valley Ethnohistory Collection, located within the lab, contains thousands of documents pertaining history and land use of American Indian tribes in the Ohio Valley and Great Lakes regions from 1600 to 1900.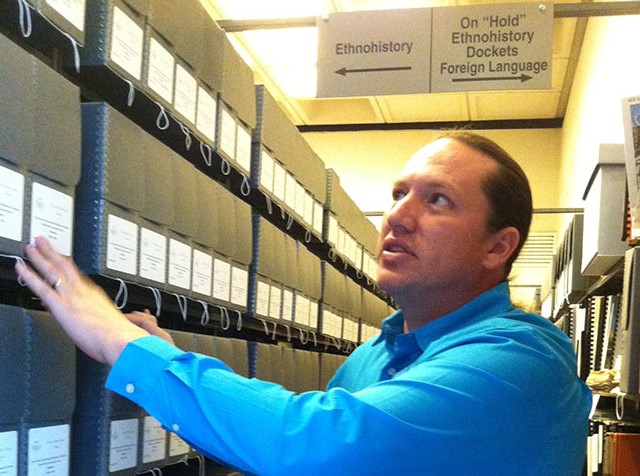 ?You can?t compare their archives to any other institution, really,? Barnes said. ?It?s a fascinating place - not just for Natives, but for anyone who?s trying to take a broader, more holistic, more interdisciplinary approach towards research. IU is a great place for that.?
During his fellowship, Barnes focused on digitizing key information, but also made sure that sensitive cultural knowledge, like the location of Shawnee burial grounds, remained private. In his role as Second Chief of the Shawnee Tribe, Barnes takes on any project that is of interest to his tribe, from expanding health care to family services to linguistics, which was his initial mission.
?When I first got involved in the tribe it was really to try to promote language acquisition and language preservation amongst our community - particularly with the young children - to get more fluent speakers,? he explained.
Though he started in language education, Barnes quickly realized that preserving Shawnee culture and customs was more than a matter of vocabulary.
?Once you start untangling that knot and start wrestling with the issues that surround language preservation, it?s like picking apart a ball of yarn,? he explained. ?You find other things that need to be done too, like researching the history [and] working with archaeologists, and you end up taking a very interdisciplinary approach.?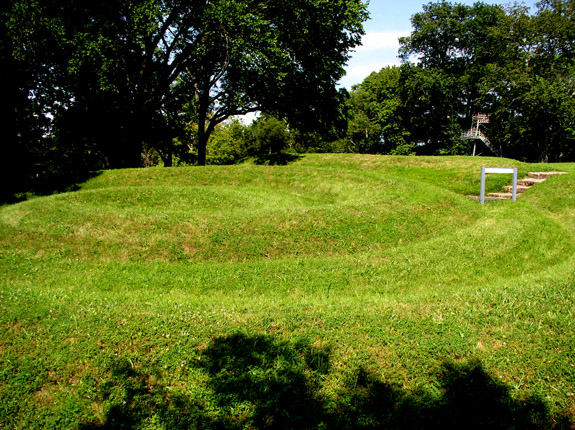 Researching traditional Shawnee language and music was a major part of his fellowship. Barnes studied at The Archive of Traditional Music, a vast collection of more than 100,000 recordings. For decades, Indiana invited Native peoples to record traditional music, and Barnes was able to listen to works that dated back generations.
?It?s fascinating to hear these recordings for the first time, voices that haven?t been heard in over 80 years,? he said. ?Imagine if the voice of Louis Armstrong had never been heard, and somebody was to suddenly uncover it - it would be extraordinary.?
Although Barnes? summer fellowship is over, the collaborative efforts to preserve and share the history of his ancestors will continue thanks to ongoing collaboration between the Shawnee Tribe and the Glenn Black Laboratory. Barnes, who plans to continue his work with IU, is dedicated to furthering his own knowledge of his people?s past and sharing it for the benefit of future generations.
[btn-post-package]Indiana?s dedication to historic preservation, collaboration with Native scholars and willingness to open its archives provides the Shawnee and other tribes a platform to connect with their past in new ways.
?There are 567 Nations recognized federally, and each one may have different customs,? Barnes said. ?The work being done at IU helps to get information back to all of them.
?Having an institution like Indiana University so willing to develop processes, to talk to tribal nations, to open up their archives and create interdisciplinary networks for Native scholars and Native Nations - to use that material, it?s not only empowering, it?s just,? he added. ?I would say that Indiana University is really leading the way in this.?
By Will Gramling