BTN.com staff, BTN.com staff,

August 22, 2015

In this day and age, the Internet regularly creates overnight sensations. Seemingly obscure, novel people and products can collect thousands of backers, customers and fans in a matter of hours if they attract the right kind of attention on sites like YouTube, Kickstarter, Twitter and Facebook.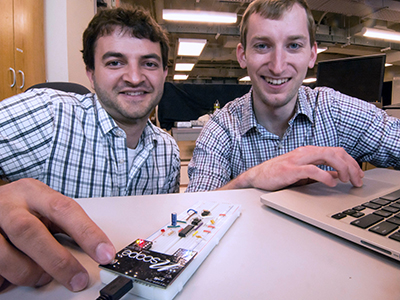 Northwestern University instructor and inventor Nick Marchuk benefited from this phenomenon when the nScope, a device he developed with fellow NU lecturer David Meyer, went viral in late 2013. Interestingly, the product took off when the website Hackaday featured a different tool developed by Northwestern engineering professor Michael Peshkin. A version of the NScope made its debut in the video and the e-mails poured in.
?Suddenly, the concept started spreading to other engineering schools, and we were getting calls to make them and sell them,? Marchuk said. ?It turns out there were a group of people out there who needed the nScope, but didn?t know it existed until now.?
So what, exactly, is the nScope? The simplest explanation is that it?s a miniature electronics testing tool. Marchuk and Meyer created it in 2010 as a way to both provide engineering students with hands-on experience, anytime, anywhere.
?It exists,? Marchuk said, ?so students don?t have to just wait to go to the lab. Instead, they have a lab device and access to it all the time. They can carry it around with them.
?The nScope isn?t as good as what?s in the lab, but it?s 90 percent of the things you need to do the work. Plus, you have your own device. It?s very functional and gives the students confidence. They?ve worked with the nScope and know that they can build something.?
Initially, they had no plans to commercialize it. But after its ?accidental? promotion and the inquiries that followed, they brought it to the Northwestern technology-transfer office, which decided not to make the product itself.
So Marchuk and Meyer resolved to start a business in order to bring nScope to the masses. The rights remained with the duo, who received a software copyright and started making final fixes to the product.
This summer, they launched a Kickstarter crowdfunding campaign that raised more than $187,000 and culminated in over 2,000 orders for their $89 gadget. It also featured a promotional video with Peshkin, one of the product?s biggest supporters.
?We did the Kickstarter campaign because it got us advertising, especially with the makers of products and do-it-yourself-ers,? Marchuk said. ?It only took a few days to raise $25,000. I couldn?t believe it.?
The nScope is becoming a must-have product for 3D printer-inspired hobbyists and those who dabble in hardware and software designs. Marchuk attributed its popularity to the fact that it?s ?an electronics sandbox that allows people to play around and learn.?
[btn-post-package]Marchuk, 30, a New Jersey native, earned his masters degree from Northwestern before he started to lecture and run the Mechatronics Design Lab at the NU engineering school. Hearing him talk about his experiences there, it doesn?t sound like he?ll be leaving anytime soon.
?I love being at Northwestern,? he said. ?I?ve been here for a total of eight years now. This is a school that doesn?t just encourage you to come up with ideas on paper. They want to see you truly create something big.?
By Cindy Pearlman