BTN.com staff,

August 15, 2015

When it comes to addiction, the road to recovery is hardly a smooth one. People who try to end their substance abuse and dependency often find it a long and bumpy ride, with detours and wrong turns along the way.

Brandi Spaulding, a psychology intern at Ohio State?s Wexner Medical Center, is determined to make that road smoother and straighter, and she?s received valuable assistance from some tech-savvy OSU undergraduates to do just that.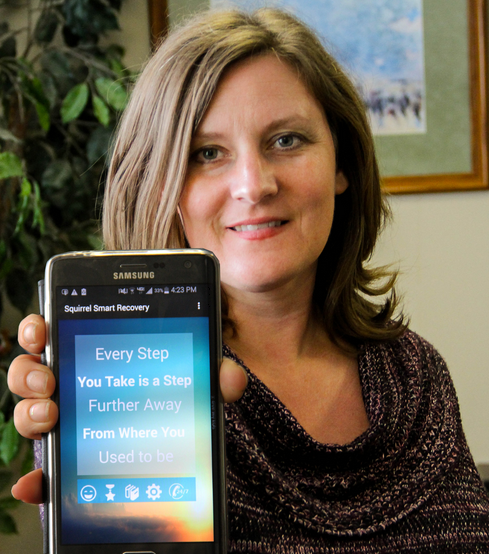 Spaulding, a doctoral candidate at Walden University in Minneapolis who?s finishing her dissertation on postpartum depression, collaborated with a handful of computer science majors to develop a mobile app designed to keep recovering addicts on the right track during their darkest moments.
?I wanted something to use for patients to lower re-admission rates to detox centers,? Spaulding explained. ?When I got the idea [for the app], somebody suggested I go to the computer science department.?
Called the Squirrel Smart Recovery app, it acts as a virtual ?signal flare,? allowing users to connect with counselors, family members, friends and other members of their support network quickly when they?re feeling most vulnerable. She said the app can be set up to provide daily updates to as many as 10 contacts in their support circle.
?It can be personalized so people can set it up based on their needs, whether it?s alcohol, crack, food, heroin,? she added. ?The app can check moods, cravings and stress levels.?
The app, which still is in development for iPhone use, has been available on the Google Play store since May 6. According to Spaulding, it?s had between 500 and 1,000 downloads since its debut. Those may not be Angry Birds numbers, but they?re impressive given the audience.
?I?m flabbergasted, really,? Spaulding said. ?The success has been unreal. I never dreamed of having an app that would take off the way it has.?
[btn-post-package]One of the next steps in the development of the app is GPS technology that will enable members of a support group to know when someone in recovery is near a ?trigger? location associated with addiction. Related apps that specialize in specific illnesses such as post-traumatic stress disorder (PTSD) also are being considered.
Spaulding credited five Ohio State undergraduate computer science majors with providing the technical know-how to make the Squirrel Smart Recovery app leap off the drawing board and onto touchscreens. She said Joseph Hunt, Anhminh Nguyen, Gauri Mishra, Jon Ruben and Suhas Gudhe completed work on the app as a senior capstone project before graduating.
?It was amazing,? Spaulding said of the app development process. ?They were smart professionals, accommodating and worked well as a team. I was very fortunate to work with them and supervise them.?
By Tony Moton