Brent Yarina, BTN.com Senior Editor,

August 12, 2015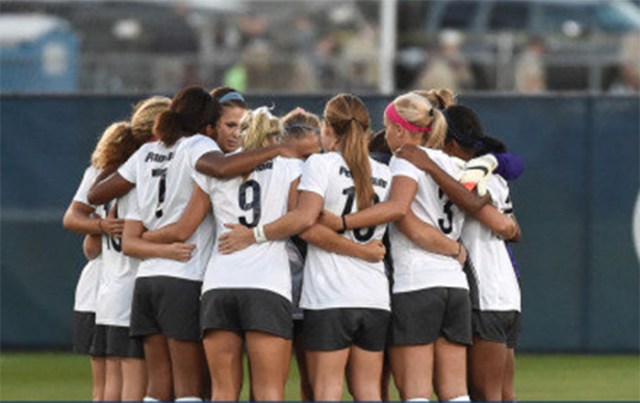 ROSEMONT, Ill. – The Big Ten Conference announced its 2015 women?s soccer preseason coaches poll and players to watch list on Wednesday, with Penn State tabbed as the preseason favorite among the 14 conference teams.
The Nittany Lions enter the season after making their 20th straight NCAA Tournament appearance in 2014. Penn State completed the 2014 campaign with a 12-1-0 conference record (20-4-0 overall), and returns eight starters for the 2015 season. The Nittany Lions have won 16 of the last 17 Big Ten women?s soccer titles.
Michigan checks in at No. 2 in the preseason poll, followed by Rutgers and Wisconsin at No. 3 and Illinois at No. 5.
The 2015 players to watch list includes Illinois? Jannelle Flaws, the 2014 Big Ten Forward of the Year, and the reigning Big Ten Midfielder of the Year Raquel Rodriguez of Penn State.
The 2015 season officially kicks off on Friday, Aug. 21, with all 14 conference teams in action.
The complete preseason coaches poll and players to watch list can be found below.
BIG TEN WOMEN?S SOCCER PRESEASON COACHES POLL
1. Penn State
2. Michigan
3. Rutgers
Wisconsin
5. Illinois
6. Minnesota
7. Maryland
8. Northwestern
9. Ohio State
10. Nebraska
11. Iowa
12. Michigan State
13. Indiana
14. Purdue
PRESEASON PLAYERS TO WATCH
Nicole Breece, Illinois, Sr., Midfield
Hope D?Addario, Illinois, Jr., Defense
Jannelle Flaws, Illinois, Sr., Forward
Marissa Borschke, Indiana, Jr., Defense
Kayla Smith, Indiana, So., Forward
Sarah Stone, Indiana, Sr., Goalkeeper
Corey Burns, Iowa, Jr., Defense
Hannah Clark, Iowa, Sr., Goalkeeper
Amanda Lulek, Iowa, Jr., Defense
Rachelle Beanlands, Maryland, Sr., Goalkeeper
Sarah Fichtner, Maryland, Sr., Midfield
Erika Nelson, Maryland, Sr., Defense
Corinne Harris, Michigan, Sr., Midfield
Ani Sarkisian, Michigan, So., Forward
Nicky Waldeck, Michigan, Jr., Forward
Jamie Cheslik, Michigan State, So., Forward
Mary Kathryn Fiebernitz, Michigan State, Sr., Defense
Alex Gjonaj, Michigan State, Sr., Defense
Haley Helverson, Minnesota, Sr., Defense
Simone Kolander, Minnesota, Jr., Forward
Josee Stiever, Minnesota, Jr., Midfield
Caroline Flynn, Nebraska, Jr., Midfield
Jaycie Johnson, Nebraska, Jr., Forward
Jaylyn Odermann, Nebraska, Sr., Defender
Margo McGinty, Northwestern, Sr., Defense/Midfield
Niki Sebo, Northwestern, Sr., Midfield
Addison Steiner, Northwestern, Jr., Forward
Nichelle Prince, Ohio State, Jr., Forward
Sarah Roberts, Ohio State, Fr., Midfield
Morgan Wolcott, Ohio State, Jr., Forward
Britt Eckerstrom, Penn State, Sr., Goalkeeper
Raquel Rodriguez, Penn State, Sr., Midfield
Mallory Weber, Penn State, Sr., Midfield
Melissa Casella, Purdue, Jr., Midfield
Kim Love, Purdue, Sr., Defense
Maddy Williams, Purdue, Jr., Forward
Casey Murphy, Rutgers, So., Goalkeeper
Brianne Reed, Rutgers, Sr., Defense
Madison Tiernan, Rutgers, Jr., Forward
Rose Lavelle, Wisconsin, Jr., Midfield
Kinley McNicoll, Wisconsin, Sr., Midfield
Brianna Stelzer, Wisconsin, Sr., Defense
— BigTen.org