BTN.com staff, BTN.com staff,

July 30, 2015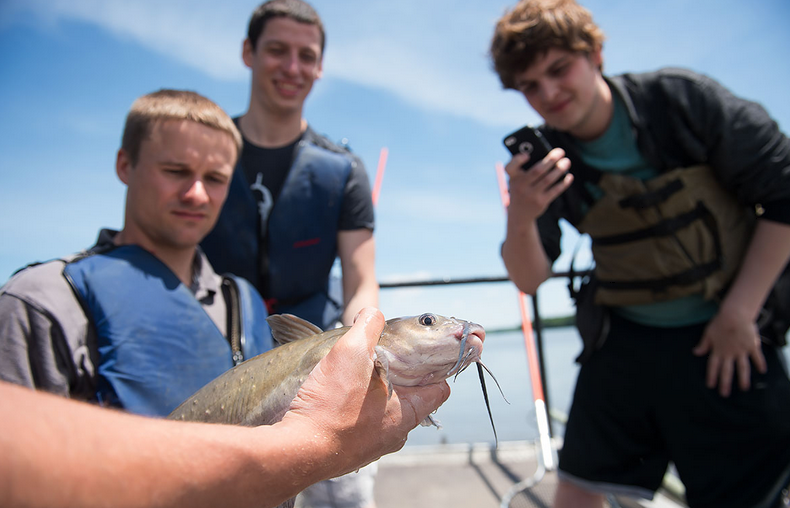 In the writings of Mark Twain, one of the activities Tom Sawyer and Huckleberry Finn enjoyed most was doing a little fishing down on the mighty Mississip?. But Tom and Huck might have been flabbergasted if they?d seen one of the ways University of Iowa students are catching fish down on that ?Big River.?
It?s called electrofishing, and it involves a special boat operated by the Department of Natural Resources (DNR) that sends electrical currents into the water, temporarily stunning the fish and allowing them to be netted, weighed, measured and released.
Electrofishing is just one method students use to conduct research in a water-quality class taught by Iowa professor Doug Schnoebelen. In this course, students spend three intensive weeks getting their feet wet - figuratively and literally - as they search for solutions to environmental problems in the largest river in North America and the second-largest watershed in the world.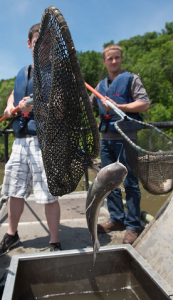 The opportunity to learn while fishing (and boating, and exploring) attracts students across academic disciplines, including engineering, chemistry, biology, geology and environmental science.
?It?s always a very popular course, and I hate to turn anyone away,? Schnoebelen said of enrollment. ?I try to keep it to a reasonable number to get everyone hands-on work.?
Typically, the course has 15-20 students, but Schnoebelen has offered an additional summer session to accommodate higher demand. The class is based at Iowa?s Lucille A. Carver Mississippi Riverside Environmental Research Station (LACMRERS) near Muscatine, Iowa.
Besides fishing, the students? research includes collecting samples of water and various organisms, and conducting lab analyses. But Schnoebelen said the course also emphasizes critical thinking, reading, writing and public speaking to help these young scientists better explain their experiences with the Mississippi River and why it?s such an important natural resource.
?I give them reading about floodplains or wetlands, and then I take them out to see them,? Schoebelen said. ?These backwaters areas of the Mississippi are important, and they need to visit them to see why. They provide rich habitats for wildlife, nutrients are produced, and chemicals can be removed from water naturally. It?s important to see how the system works [as] a whole.?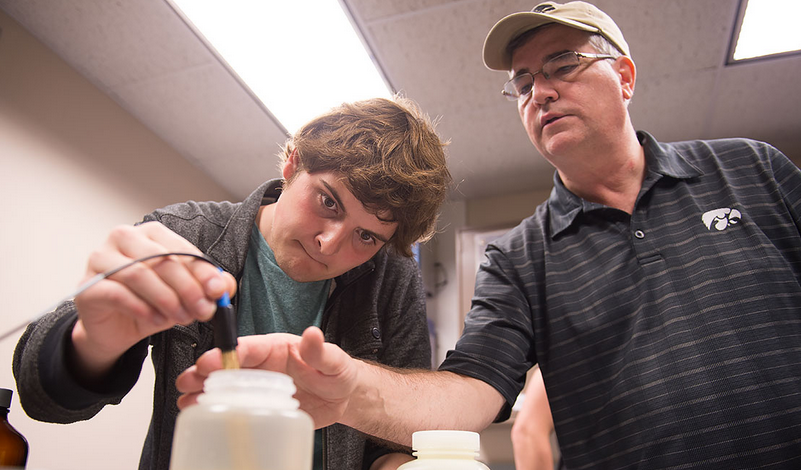 Schnoebelen, who was named director of LACMRERS in 2008, said the most surprising thing he?s discovered in offering the course is the number of students who count this as their first experience of any kind with a large river.
?Sometimes, they don?t understand the complexities of the interactions between the chemistry and the biology or the flow,? Schnoebelen said. ?They just don?t understand how they?re connected. What?s so much fun is seeing the light bulb go off.?
[btn-post-package]The water-quality course?s isn?t the only thing keeping Schnoebelen busy on the river this summer. In late July, he hosted a meeting of Intensively Managed Landscape-Critical Zone Observatory (IML-CZO), a consortium of researchers who study soil, water and plant life in the Midwest. Schnoebelen said Iowa, Purdue, Northwestern, Indiana and Illinois represent the Big Ten at the event. (The University of Tennessee is the lone SEC representative making the trek to LACMRERS.)
The IML-CZO event is part of a five-year study on air, water and soil in the Midwest, with the upper Mississippi River basin and its tributaries as a focal point, according to Schnoebelen.
?It?s important because we want to understand what?s behind the processes going on in the soil and water,? he said. ?You have to know the science before you can make informed decisions on how you?re going to take care of the landscape.?
By Tony Moton