BTN.com staff,

May 16, 2015

Students at Big Ten universities aren?t waiting until they get out into the ?real world? to make a difference. Find out how they?re working together to create positive, meaningful change in this BTN LiveBIG series: the Student Section.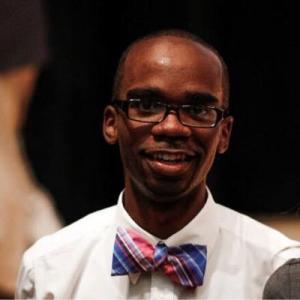 Ohio State student DaVonti? D. Haynes has seen many memorable things in the few years he?s spent in Columbus. But the one thing he knows he?ll never forget is meeting the 8-year-old whose mother overdosed in front of her son.
?He was in third grade,? Haynes recalled. ?His mother was in bed with the little boy when she died. I met this boy and knew he had so many disadvantages in his life, except for one thing.
?He told me, ?I love school. I want to learn.??
Haynes wants to devote his life to making sure all children get a chance to soar, no matter what the circumstances of their lives might be.
?Do I want to save the world one kid at a time? Yeah,? he said. ?That?s the plan.?
While it?s a personal passion for Haynes, he?s also paying it forward.
?I?m someone who grew up in a similar disadvantaged school district as that little boy,? he said. ?I made it out. All it takes is someone who cares to help other children make it out.?
To that end, the Cleveland native is currently finishing his junior year at Ohio State, where he?s majoring in public affairs with a specialization in education policy, and minoring in political science. He chose that academic path with great care.
?I want to mix education with politics,? he said, and added that he?s already doing both on the frontlines.
In his spare time, he works with the Columbus City Schools Superintendent Dan Good and other CCS employees through the university?s Second-year Transformational Experience Program (STEP). He also coordinates a program called ?A Day in the Life of a Buckeye,? where underprivileged youth get to experience a day on campus.
?It?s a transformational experience,? he said of STEP. ?It?s for second-year students here who live on campus. You?re given a stipend to create and develop.?
He chose to do an internship where Haynes shadowed the superintendent and regularly met with both teachers and principals as well.
?I?ve been able to get to know more about the system and how an inner-city school system works,? he explained. ?As a student who attended an inner-city school, I?ve been able to see how it works from the other side and get a better understanding.
?I want to combine the perspective of the students, parents and administration. I want the full picture.?
Ask him about the biggest misconception of inner-city schools, and he sighs.
?Some people truly think that students in inner city schools are all poor and lazy,? he said. ?That?s not the case. You have so many bright students who want to work hard and learn. They just don?t have the resources they need.?
A Day in the Life of a Buckeye is a different kind of challenge. High school students in impoverished communities ranging from Cleveland and Toledo to remote sections of Appalachia get to come to Columbus for a day to attend classes and just hang out on campus with their college counterparts.
?We bring high school sophomores and juniors from rural or inner-city schools to Ohio State for a day to shadow students,? Haynes said. ?The idea is that these students finally get to see a college campus.
?A lot of them have never been to college before. It?s exciting for them to sit through a class. Imagine if you?re a kid who always wanted to be an engineer or a nurse. Well, now you can actually take one class in that area.?
The day ends with the high schoolers interacting with a student panel, through which Buckeyes share some inside info about life on campus.
?The college students talk about how they got into college,? said Haynes, who quickly added, ?We?re not trying to convince anyone to go to Ohio State. We just want these kids to go to college.?
Haynes also helped create a new program called Mentor-A-Buckeye.
[btn-post-package]?We take 9th graders and pair them up with college freshman for all four years,? he said. ?So for the duration of one high school career and one college career, there is a student and a mentor. They both graduate together.
?The mentor talks about college and helps with applications and advice. It?s all about bringing people together.?
Haynes came to Ohio State on a scholarship, and he?s incredibly grateful for that opportunity.
?I love this school,? he said. ?It is the best decision I ever made, and the best thing for me. The best part of Ohio State is the opportunities combined with a program that allowed me to find my passions.
?At some schools, it ends there. You find your passion. But at Ohio State, you find it and then get to work with your passion in the real world. This university puts so much emphasis on getting out there.?
Haynes, 21, is looking forward to his starting his senior year at Ohio State this fall, and then staying in Columbus for at least a couple years more for grad school.
?I want to continue in my work there,? he said.
Haynes has a rare ability to look forward, but not forget the past.
?I?ve met kids who suffer more trauma by age 10 than most people experience in a lifetime. It just takes one person to turn it around for them.?
So who helped him?
?My mother,? he said with a laugh. ?I?m one of four, and my mother was the motivator. All she talked about was me going to college.?
And now her son is helping others find that dream.
?One kid who goes to college can change the world,? says Haynes.
By Cindy Pearlman