BTN Communications,

April 13, 2015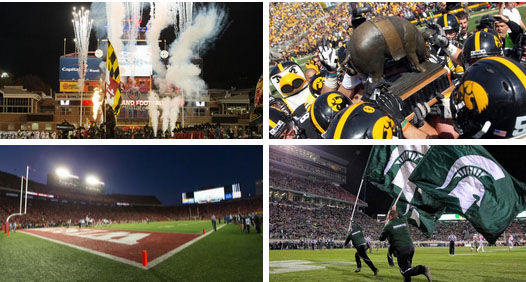 CHICAGO - BTN?s 2015 primetime football schedule will feature the conference?s 2014 West Division Champion Wisconsin Badgers, Cotton Bowl Champion Michigan State and Michigan in its first year under new head coach Jim Harbaugh among its contests on six key Saturday nights.
Twelve of the 14 Big Ten schools will play in primetime on BTN, and four of the games are conference contests, including Minnesota at Iowa in the first-ever primetime battle for the Floyd of Rosedale Trophy at Kinnick Stadium.
?Since BTN launched, there has never been more anticipation leading into the football season,? said BTN President Mark Silverman.
The first of BTN?s conference matchups in primetime features Rutgers at Penn State on Sept. 19. Last season in the Scarlet Knights? Big Ten debut, the Nittany Lions played the spoiler and left Piscataway victorious after a late touchdown drive. This year at Beaver Stadium, Rutgers will look to even the score in this budding rivalry of neighboring state schools.
On Oct. 3, Michigan visits Maryland in a Big Ten East Division clash. The Terrapins defeated the Wolverines 23-16 last year, but with a new regime in place, Michigan has high hopes of returning to the top of the pack. Maryland impressed in its first Big Ten season, finishing the season with a 7-6 record, including 4-4 in conference play.
2015 BTN Primetime Schedule

Saturday, Sept. 12
South Alabama at Nebraska
Saturday, Sept. 19
Rutgers at Penn State
Saturday, Sept. 26
Hawaii at Wisconsin
Saturday, Oct. 3
Michigan at Maryland
Saturday, Oct. 10
Michigan State at Rutgers
Saturday, Nov. 14
Minnesota at Iowa
All games will be available on BTN2Go.

Michigan State, which ended last season ranked No. 5 in the country after its dramatic comeback victory over Baylor in the Cotton Bowl, visits Rutgers on Oct. 10. The Spartans, a preseason top-10 squad, return quarterback Connor Cook and a number of key cogs on the defensive side who are intent on earning a spot in this year?s College Football Playoff.
BTN closes out its primetime slate on Nov. 14 with the Floyd of Rosedale rivalry game, when the Hawkeyes host the Gophers. Iowa has won six of the last 10, but Minnesota looks to capture the trophy for the second straight season after its impressive 51-14 victory last year.
BTN?s other primetime selections include Pittsburgh at Iowa on Sept. 19, when former Michigan State defensive coordinator and now Pittsburgh head coach Pat Narduzzi makes his return to the conference. Also on the schedule are Hawaii at Wisconsin and Ball State at Northwestern.
In all, BTN will televise at least 40 football games this fall. Start times and television arrangements for other early season games will be announced at a later date.
BTN?s Primetime Schedule
Saturday, Sept. 12
South Alabama at Nebraska
Saturday, Sept. 19
Rutgers at Penn State
Saturday, September 26
Hawaii at Wisconsin
Saturday, October 3
Michigan at Maryland
Saturday, October 10
Michigan State at Rutgers
Saturday, November 14
Minnesota at Iowa
*Kent State at Illinois on Friday, Sept. 4 previously announced
*Florida International at Indiana on Sept. 12, Pittsburgh at Iowa on Sept. 19 and Ball State at Northwestern on Sept. 26 will also appear in primetime in the Big Ten team?s home market and on Extra Football Game Channels and BTN2Go elsewhere.
About BTN: A joint venture between the Big Ten Conference and Fox Networks, BTN is the first internationally distributed network dedicated to covering one of the premier collegiate conferences in the country. With more than 1,000 events across all platforms, the 24/7 network is the ultimate destination for Big Ten fans and alumni across the country, allowing them to see their favorite teams, regardless of where they live. BTN2Go is the digital extension of the Big Ten Network, delivering live games and on-demand programming to Big Ten Network customers via the web, smartphones, and tablets. Events include football, men?s and women?s basketball games; dozens of Big Ten Olympic sports and championship events; studio shows; and classic games. Original programming highlights activities and accomplishments of some of the nation?s finest universities. The groundbreaking Student U initiative provides real-world experience for students interested in careers in sports television. The network is in more than 60 million homes across the United States and Canada, including carriage by all the major video distributors, such as DIRECTV, DISH, Verizon FiOS, AT&T U-Verse, Charter Communications, Comcast Xfinity, Time Warner Cable, Cablevision, Cox Communications, Mediacom, RCN, WOW!, and approximately 300 additional video providers across North America. For additional information, go to www.btn.com.
###