BTN.com staff,

April 3, 2015

Students at Big Ten universities aren?t waiting until they get out into the ?real world? to make a difference. Find out how they?re working together to create positive, meaningful change in this BTN LiveBIG series: the Student Section.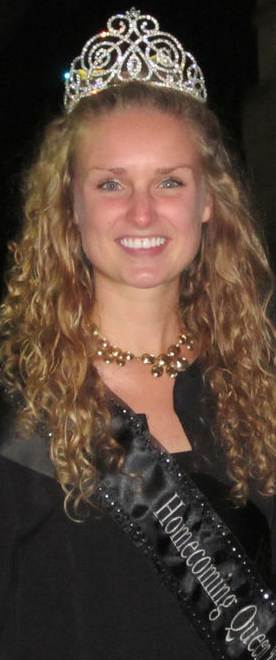 Heading to the University of Iowa four years ago, Allison Kindig was like most other undergraduate students - unsure about her life?s direction, but excited about what the future held in store.
As she prepares to graduate this spring with a degree in engineering, Kindig can look back at her academic career so far and say she?s accomplished her goal - and then some. She?s gone from a poor village in India to the rarefied heights of a parade float as the University of Iowa?s 2014 Homecoming Queen.
After going to China in high school, Kindig said she got bit by the traveling bug. When she left her hometown of Cedar Rapids to begin freshman year, she was set on finding experiences that would fuel her desire to travel and make a difference.
?One of the things I looked for was the opportunity to study abroad in unique places and do real work,? she said. ?I wasn?t necessarily looking for a vacation.?
Her academic journey continued when she figuring out what her professional calling was as a freshman.
?First semester, I was taking a collection of classes,? she said. ?I took one engineering course and decided this is what I want to do.?
The next stop was a study opportunity with an international development program in India, where she worked on solar power solutions to help villages maximize their resources. That has led to multiple trips to the same village in India - with another trip on the way - as well as a similar excursion in Cameroon.
?I can?t express what it?s like to learn about an issue and then all of a sudden you?re there,? she said. ?It?s easy to separate yourself from problems when you?re remote. But when you?re in these places, it?s real. It?s a matter of making sure you learn what you need to in order to help. Getting in tune with the community and what their needs are. And having fun with it.?
She said her return to the same village in India really opened her eyes to just how much her work could help the people there.
?It was amazing to me to see some of the changes in these communities,? Kindig said. ?Policies that were enacted years ago ? we were seeing some of these changes. It plays into our role as engineers. It?s so important to understand the people and the culture and the ethics.?
Back in Iowa, Kindig stays on the path of helping others through her work with the engineering department, as well as her role as a resident assistant. Oh, and her duties as Homecoming Queen last fall.
?That was so amazing,? she said. ?I think the coolest thing was that I was in the parade. We all went around in fancy cars in Iowa City. I saw so many people from all the organizations I?ve been involved with. Then I saw people from high school and my hometown. In the moment, I felt so connected. It felt so right. This is my home, my community.?
Iowa?s homecoming opponent - Indiana - made it even more special. Having worked in Bloomington on a summer internship, she had a number of friends who bleed Hoosier crimson. So, she was cheering extra hard during the Hawkeyes? victory that day.
?I would wear my Hawkeye stuff [in Bloomington], and they would say, ?I can?t be seen with you anymore,?? she recalled with a laugh. ?I definitely had fun giving those Hoosiers a hard time. It added to the memories.?
Kindig has one more obstacle to conquer before she graduates in May. As captain of the Hawkeyes? triathlon team, she will head to Clemson University for the USAT Collegiate Club National Championships this month.
It?s a sport that?s close to her heart: Kindig speaks wistfully of taking up triathlon training in high school, and her father (a collegiate decathlete himself) joining in.
?After a couple of races, he said, ?This is silly. I shouldn?t just be watching you. I want to get in there,?? she said. ?He could swim, but he didn?t know how to swim (in competition). I became his swim coach. It?s like a family event. That?s pretty cool. We really push each other.?
During the upcoming championship meet, Kindig will be riding in style - on a bike she built herself.
?It?s the coolest thing,? she said. ?I wanted to balance aerodynamics and ergonomics. I fused those two aspects into my own bike frame.?
She said the bike is just about finished. Just about all that?s left is painting it - in Hawkeye black and gold, of course.
[btn-post-package]After leaving Iowa City, Kindig will prepare to embark on the next chapter of her academic life: graduate school in the United Kingdom as a recipient of the Gates Cambridge Scholarship. She recalled the day she found out she had won the year-long scholarship, which starts in the fall.
?I was shocked,? she said. ?Immediately, just wow. This is incredible. My first reaction was, ?I gotta call my parents.? And then I just thought about the help I?ve gotten from so many people in the world. To see what you can do with your talents, it?s just amazing.
?To be the engineer I really want to be, I have so much more to learn,? she added. ?This program will really help me do that.?
She also plans to make her mark on Cambridge?s triathlon team.
?I?m excited about racing over there,? Kindig said. ?There?s a big rivalry between Cambridge and Oxford. I would love to add to that rivalry.?
Oxford, you?ve been warned.
By Matthew Wood