BTN.com staff,

March 8, 2015

Students at Big Ten universities aren?t waiting until they get out into the ?real world? to make a difference. Find out how they?re working together to create positive, meaningful change in this BTN LiveBIG series: the Student Section.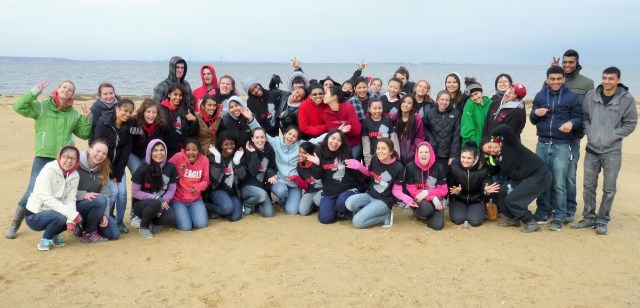 Kerri Johnsen, a junior double-major in sociology and history at Rutgers University, had only been at school a few weeks when Hurricane Sandy hit the Northeastern U.S. Understandably, she was concerned - not so much for herself, but for her grandparents living in the Queens borough of New York. The rising waters had flooded the first two floors of their three-story home in the city?s Howard Beach neighborhood.
?My Nanny [grandmother] evacuated before the storm happened, but my Poppy [grandfather] decided to stay, and he ended up living on the third floor,? she said. ?They lost everything. My uncle had to go with a rowboat to get Poppy out.?
Two and a half years later, most Americans living outside the Northeast probably don?t think about the devastation caused by Hurricane Sandy all that often. But for many people in the region, such as Johnsen and her grandparents, physical and psychological wreckage remains.
?We have a large family, and a lot of them are in the construction business, so there is somebody at the property every weekend trying to fix it up,? she said of the effort to repair her grandparents? home. ?But there is still a lot of stuff laying around.?
At Rutgers, The State University of New Jersey, a high percentage of the student population was directly or indirectly affected by Hurricane Sandy. Whether their family?s vacation home was badly damaged or they had close friends who lost the house they grew up in, most of them had some personal connection to the storm and its aftermath.
Accordingly, many of those students started or later got involved with Serve the Shore, an organization that was formed to provide volunteer repair projects in various communities along the 127-mile shoreline that runs from Sandy Hook to Cape May. Serve the Shore operates under the direction of the Student Involvement & Community Service department at Rutgers? Student Activities Center.
Once a semester, the organization takes groups of Rutgers students to different spots along the Jersey Shore, where they help other community groups with organizing, distributing donated funds and goods, and providing energy and muscle.
?A lot of the work has been on the physical end,? said Karen Ardizzone, associate director of the student involvement department at Rutgers. ?One of the first events we had was in March of 2013, when we moved a lot of debris from the beaches that was still washing up six months after the storm. At the same time, we had a smaller group of students who spent a week there working on homes that had been destroyed.?
[btn-post-package]The first order of business for Serve the Shore was to provide donated funds and goods as the students sought out reputable neighborhood and community groups to partner with, Ardizzone said. Johnsen was among the students who took part in the first Serve the Shore trip, which was organized soon after the second semester of the 2012-13 school year began.
?I went with 12 students, and we worked in Ocean County, Seaside and Atlantic City on a bunch of different projects,? Johnsen said. ?We rebuilt houses, cleaned up beaches and parks, organized a food bank and pantry, and made Easter baskets for the children of the families affected.?
The group has now carried out five organized trips to do volunteer recovery work, and more than 400 students total have participated in those efforts. The most recent expedition, for which Johnsen was the lead student organizer, took place yesterday.
Johnsen said she?s pleased to help the beach community through Serve the Shore, but said her overwhelming feeling after each project is a wish that more could have been done.
?There is a strong sense of community here, and it came out after Hurricane Sandy happened,? she said. ?I think that no matter how long it will take, we students can help get it back to [being] the best it can be.?
By Kent McDill