BTN.com staff,

March 2, 2015

Inspired by their experiences in college and elsewhere, these Pathfinders are passing by the typical, well-trod career paths and blazing their own trails. We?ll explore the unconventional approaches these Big Ten alums are taking to work.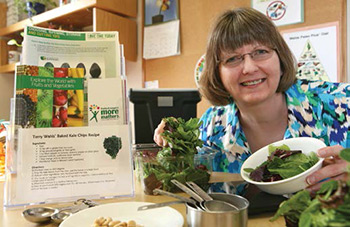 Cathy Chenard?s love of food and nutrition is homegrown. From a young age, the freelance registered and licensed dietitian and Iowa alumna (M.S., 1989) found herself wanting to learn more about food, an interest she said was passed down from her grandmother.
?I had an interest in cooking and things like that, so she got to be the teacher and I was the pupil,? Chenard said. ?When I was looking for careers, I looked at different opportunities and decided on dietetics, which was a combination of food, nutrition and health.?
Her specialty is working with medical professionals to create the best meals for patients (from both a taste and nutrition standpoint) depending on what their ailment might be - especially important when there are factors such as severe dietary restrictions or loss of appetite.
For example, while nutrient-rich meals might be ideal for people suffering from multiple sclerosis, a diet high in fats and low in carbs can help some patients going through chemotherapy and radiation, as it makes lung cancer cells more vulnerable to those forms of treatment.
A Michigan native, Chenard earned her B.S. in dietetics from Central Michigan University. After graduating, she thought about how she could make a difference in her chosen field.
?In order to become a registered dietitian, individuals need to complete an approved bachelor?s degree program, and then an approved internship program,? she said. ?I thought research would be an interesting career that I want to explore. So, when I was looking for dietetic internships, I looked for those that had a research component.?
And she found one at the University of Iowa. After completing her dietetic internship, Chenard was hired at the university?s General Clinical Research Center and simultaneously started working on her masters.
?I got to work right off the bat doing what I wanted to do,? she said. ?It was great to have all that practical, hands-on experience and learn from my boss who had been there for a long time [and was] very bright and knowledgeable about research.?
Today, Chenard provides nutrition research support services for investigators who are conducting clinical studies that involve controlled feeding, food- and supplement-intake assessments, or both.
Her role varies from project to project: It may include developing controlled diets, collecting dietary data, training and supervising student employees, and assisting with the nutrition portion of study design and manuscript preparation.
One of Chenard?s current projects includes looking at the food and supplement intake of people who have the genetics for Huntington?s disease, which causes deterioration in the brain?s nerve cells over time. Part of that involves studying what people with that condition voluntarily eat before they actually receive a full-blown diagnosis.
Chenard also is working with Terry Wahls, a UI clinical professor of medicine who is assessing the effectiveness of a nutrient-rich diet she developed as a treatment for multiple sclerosis.
?I?m acting as the study coordinator, getting all the pieces and the logistics together,? Chenard said. ?I?m also going to be doing the diet instruction to help the study participants follow the diets. We have resources and materials that we put together, handouts and materials to provide assistance for the patients. We also are looking at the nutritional adequacy of the diets.?
Regardless of what the research shows, it?s important for Chenard to keep in mind that she?s dealing with human beings who, for the most part, still have a sense of taste.
[btn-post-package]?You can have a wonderful diet calculated in your computer program, down to the tenth of a decimal place to meet the nutrient prescription,? she said. ?If the foods aren?t palatable, then your research is not going to go anywhere because people are not going to be eating the diet. So you need to consider people?s taste preferences and health, trying to find tasty things people can eat.
?Also, sometimes people do need to make adjustments to their diets for the study. So there is some education and motivational interviewing and techniques to help people transition to new eating habits.?
One key lesson has emerged from all of her work around dietetics: Research is critical. Chenard points to ResearchMatch and ClinicalTrials.gov as good organizations for those interested in participating in these kinds of dietetics studies.
?The whole research paradigm is so important to help us learn best practices and determine what is helpful,? she said. ?I think that as research continues to progress in all fields, we?ll be in much better positions generations from now to be able to make more specific recommendations for people. I think it?s a really exciting time and the future?s really bright for looking at nutrition and diet and health.?
By Elisabeth Lisican