BTN.com staff,

February 25, 2015

In this week's "5 Things I Know" with BTN women's basketball analyst Stephanie White, we take a look at a few recent thrillers, the race to the end of the regular season this weekend, and more as the Big Ten Women's Basketball Tournament is only one week away.

Here's what White talked to us about this week:

[btn-post-package]

1. Some big thrillers
This time of the year teams are making that push for seeding and postseason bids, and we saw some ultra-competitive, down-to-the wire finishes. Michigan at Minnesota was an exciting game of runs that took two overtimes to decide. The Wolverines came back from nine points down with 7:26 left to send the game into its first OT.

The Gophers were able to pull away in the second OT behind another dominant game by Amanda Zahui B., who finished with 27 points and 27 boards. Minnesota also got 21 points and six assists from Carlee Wagner and 23 points from Shae Kelly. Michigan had a couple of terrific individual efforts, as well. Katelynn Flaherty had a career-high 27 points and Cyesha Goree finished with 26 points and 20 boards!

Northwestern had another heart-stopping comeback win on the road in Madison, as it used a 15-5 run to erase a 10-point deficit with 5:32 remaining. Maggie Lyon came up with a big bucket to force OT and finished with 15 points. The Wildcats were able to close it out in the second OT, but not without a fight from the Badgers. That?s three come-from-behind victories for Northwestern in the last four games.

2. Race to the finish
With tournament seeding still up for grabs, it?s a race to the finish – see the latest standings. There are still a number of scenarios that could play out in terms of seeding for the Big Ten tournament. The teams with the top four seeds will get a double bye, which means they won?t have to play until the Friday quarterfinals.

Each team that currently sits in those top four seeds, as it stands, has an opportunity to control its destiny. So, we may not see a race for a regular-season championship, but with two games remaining and five teams fighting for three of those top four seeds, we will certainly be entertained down the stretch. Let?s also remember that teams are fighting to secure their spot in the NCAA tournament, so a lot is on the line as we come finish up regular season play.

3. Games to watch
Iowa takes on a Wisconsin team that is playing its best basketball of the season, and then there's a rematch with Zahui B.?s Gophers in Iowa City to finish the season. That Sunday match up with Minnesota should be a terrific matchup. The last time these teams met, Zahui had her monster 39-point. 29-rebound game!

Ohio State currently occupies the No. 3 seed and finishes its schedule on the road, at Penn State and Nebraska. The Buckeyes have been lethal at home going 8-1 in conference play, but only 3-4 on the road. These games will be tough challenges.

Rutgers has the No. 4 seed and an opportunity to bounce back from a loss this week at Michigan State, but it certainly won?t be easy. They match up against the red-hot Northwestern Wildcats on the road on Thursday and at home against Indiana on Sunday. Northwestern is also a team that is in the mix for one of those top four seeds, so it has a tremendous opportunity to gain some ground as it faces Rutgers and Maryland at home to finish the season.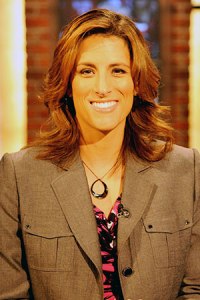 4. Northwestern Back in Top 25
Joe McKeown?s squad has reached the Top 25 for the first time since 1996 this week. And 1996, coincidentally, was the last time the Wildcats were in the NCAA tournament! This program has fought and clawed it?s way out of the cellar in McKeown?s seven years in Evanston.
It has been a slow process, but this team has proven with young talent and athleticism that it belongs. The Cats have won 11 Big Ten games, which is their most since the 1992-93 season and it proves they know what it takes to be successful in conference play.
We have seen Northwestern put together really good non-conference records over the last few years and chip away at the mental hurtle that plagued them against conference foes, but not this team and not this year. This team, while always making it interesting, has competed and learned to win. Learning to win is a process and they have trusted the process; the results speak for themselves. I know the Cats and their coach aren?t satisfied, but there is certainly a cause for celebration, as there should also be on Selection Monday.
5. Big Ten Champs
Maryland secured sole possession of the Big Ten title and remains undefeated with two games remaining in the regular season. The last time a team went undefeated in conference play was 1998-99, so it?s been a while. It?s remarkable what this team has done coming in to a new league and playing unfamiliar opponents as if it has seen them year after year.
The Terps have a young core group that continued to get better as the season progressed and approached every game in a business-like manner. Congratulations to Brenda Frese and her squad on their 2015 regular season Big Ten Championship!
***
| | |
| --- | --- |
| About Stephanie White | White, a member of Purdue's 1999 national championship team, is a BTN women's basketball analyst and head coach of the WNBA's Indiana Fever. Follow her on Twitter @swhitej2 |