Ryan Sullivan,

January 9, 2015

With Monday's National Championship Game quickly approaching, our communications team sat down with BTN's College Football Analysts Gerry DiNardo, Glen Mason, and Howard Griffith to find out their keys to the game. BTN will have a set in Dallas for both pregame, halftime and postgame coverage following a full Buckeye Block of Ohio State programming beginning at 8 AM ET Monday.

BTN will replay Ohio State's Sugar Bowl victory over Alabama on Saturday at 9 PM ET.

Defense

Defensively, what is the most difficult adjustment to make when facing Oregon?s up-tempo offense?

Gerry DiNardo: There are two adjustments; the first is keeping pace with their up-tempo. As much as you practice it, it?s never going to be as fast in practice as it is in the game, but you want to simulate it as close as possible. Secondly, when Mariota breaks contain and starts scrambling, he is as dangerous as anybody playing the game.

Glen Mason: The most difficult adjustment is a physical adjustment, which is called stamina. Most teams would like to be able to freely substitute, especially on the defensive line. Ohio State has talent, but I don?t think they have the depth to freely substitute. They prefer the combination of Bosa, Bennett, Washington, and Miller, so the stamina of those guys will really be important.

Howard Griffith: Understanding the route combinations that they?re going to try to run out of pre-snap looks, and being able to line up and know where they are. Being confident - Being able to make substitutions - if you?re able to make substitutions, being able to get them in as quickly as possible.

What is the biggest key to containing the Ducks?

Gerry DiNardo: Keeping Mariota from impromptu plays when he breaks contain.

Glen Mason: The biggest key is containing the quarterback, Marcus Mariota. He?s the one that makes them click. He has 55 total touchdowns and only three interceptions. If you contain Marcus Mariota, then you can slow their offense.

Howard Griffith: Trusting your eyes and being physical. I think you have to be able to control the line of scrimmage. This Ohio State team has been really physical, particularly the last couple of games, but the Ducks are no longer a finesse football team - they?ve proven their ability to be physical upfront.

The Buckeyes have been able to slow down Heisman finalists Melvin Gordon and Amari Cooper over the past two games, if you were coaching the Buckeyes defense, how would you scheme against Heisman winner Marcus Mariota? Is there an aspect of his game you think they may be able to exploit or challenge?

Gerry DiNardo: I do, I think if you can keep him in the pocket and not let him scramble, that?s the first thing. The second thing is when they run the option, keep him from busting the big plays - he is going to gain his yards but you don?t want him to break the big one.

Glen Mason: The defense has to remain aware and responsible for Marcus Mariota pulling the ball down and taking off. Having him accounted for is one thing that I would address.

Howard Griffith: They have to make a decision whether or not they?re going to force the issue with bringing extra guys and being creative with blitzes, but Mariota doesn?t make many mistakes, so if you are going to add another guy into the box or bring the blitz you have to be careful not to get exposed in the secondary.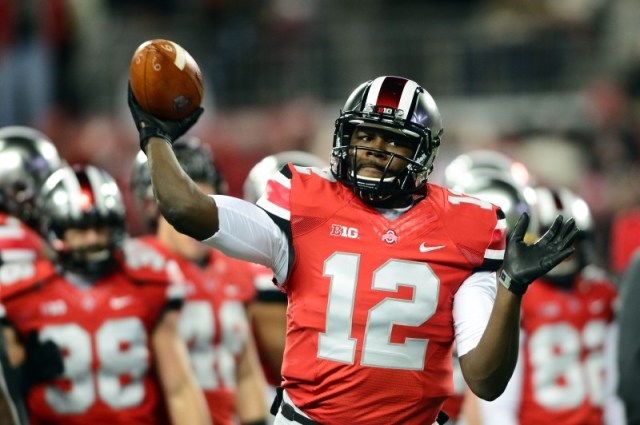 Offense
Why was Ezekiel Elliott able to have so much success against Wisconsin and Alabama and what is the key to him keeping it going against Oregon?
Gerry DiNardo: Ohio State?s offense threatens the defense both vertically and horizontally in both the pass and the run game, which is very unusual, and it?s hard to defend all of those things snap after snap. With downhill runs, there is always a seam because the defense has to respect his sideline to sideline speed and ability. That?s what they did against Wisconsin and Alabama, and that?s what Oregon has to stop.
Glen Mason: First and foremost, the development of the offensive line. Ezekiel Elliott is having an outstanding year, he?s a good physical runner, he matches the Ohio State?s offensive system to a tee, but the way that Ohio State has been able to replace 4 starters from last year, 3 of which are starting in the NFL, is really remarkable. I think this group has become very cohesive and physical, which has been the key to Elliott?s success.
Howard Griffith: One of the main reasons is because they?ve had the injuries at quarterback. With Jones at quarterback, they have relied more on the run game to be able to control the game. They?re not asking Jones to go out there and win it with his arm. They?re relying on that offensive line, which is playing so much better. I think one of the things that goes unnoticed is the great job of the wide receivers blocking down field.
The offense has thrived on big plays in the passing game the last few weeks, do you think Ohio State can be equally successful if Oregon makes a more concerted effort to provide safety help and force the Buckeyes to beat them underneath?
Gerry DiNardo: It?s going to be a tough decision for Oregon. If they want to stop the wide screens and roll the corners up, then they leave themselves vulnerable in the middle. If they want to use their safeties to support the run, then they leave themselves vulnerable on the perimeter. What they did against Florida State, they rolled the corners and they were vulnerable in the middle to the pass game. Florida State had some decent success doing that, but Florida State did not challenge them up the middle with their run game. If Oregon plays two deep safeties, I think you?ll see Elliott have a big game. If they support the safeties, I think Ohio State will have a big game throwing the ball in the perimeter.
Glen Mason: I think it?s going to be tough for Oregon to play square up and not get safety help involved in stopping the running attack, both horizontally and vertically. One of the reasons why Ohio State has been going deep and having success, they?ve been able to beat tough press man coverage on the outside played by both Wisconsin and Alabama. I would think that if you see softer coverage, you will see a lot more hitches and outs being thrown by Ohio State. If you continue to get press coverage they?ll continue to throw downfield.
Howard Griffith: I think what we have seen is the entire wide receiver group elevating their game. Where it?s not just being able to make one big catch. They?re very consistent.
Cardale Jones has demonstrated a great deal of poise in his first two starts, but on the big stage that is the National Championship, how do you stay focused and not let the nerves creep in?
Gerry DiNardo: This is a bigger stage, but I think it?s fair to say that I think he?s already been on the big stage at the Big Ten Championship and the Sugar Bowl Semifinal. I would suspect he will be ready for this. It?s been a progressive step, Big Ten Championship, Semifinal, and now the Final.
Glen Mason: All players are different. From my perspective, being around Cardale Jones, he doesn?t seem to be a guy where the pressure or the importance of the moment gets to him. I don?t really see him being too nervous or too uptight heading into it.
Howard Griffith: I don?t think we should be concerned about the big stage because he doesn?t have to win the game, this is a team game and all of the pressure is not going to be on him. He just needs to make the plays when he is called upon to make them - the right reads and the right throws.
What do you think makes Urban Meyer such a good in-game coach and why has he had such success coaching in big games?
Gerry DiNardo: He manages the game on the headset both offensively and defensively. He knows the game plan on both sides of the ball. He?s not afraid to make decisions that are high-risk, high-reward. He has total control of both sides of the ball.
Glen Mason: First of all, Urban Meyer is a tremendous coach and I think that his process in preparing season long is to prepare his team and his coaches for the ?big game.? He doesn?t wait for the big game to come along and then do anything different or adjust, just because it?s a big game.
Howard Griffith: I think he has a great feel for the football game. I think he does a great job of hiring assistants to teach the game, and allow those guys to be able to coach and communicate with his players. He knows what he wants and what he expects and at each one of his stops he?s been able to hire the right assistants to be able to teach what it is that they need and if they?re not the right guy he?s not afraid to go in a different direction.
Fill in the blank?.
The Buckeyes will win if ______________.
Gerry DiNardo: Elliott rushes for 150 yards or more.
Glen Mason: They play the same type of defense they played against Wisconsin and Alabama.
Howard Griffith: They control both lines of scrimmage offensively and defensively - and don?t give up explosive plays.