Tom Dienhart, BTN.com Senior Writer,

December 30, 2014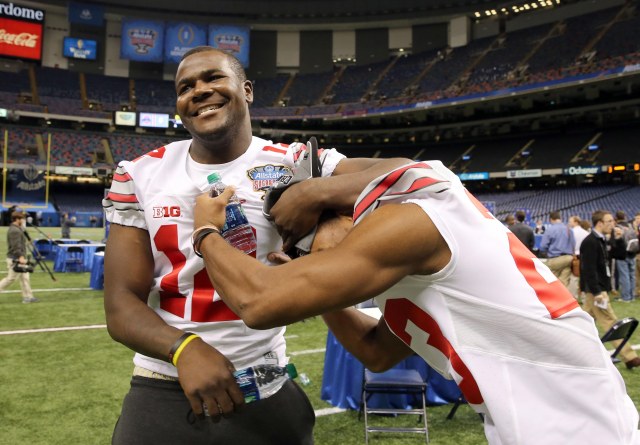 NEW ORLEANS - Everyone is saying the right things.
Cardale Jones will be ready.
Cardale Jones is working hard.
Cardale Jones is on top of his game.
And on it went from most any player with a microphone or tape recorder shoved in their face during media day at the Sugar Bowl when asked about the readiness of the Ohio State quarterback, who has exactly one career start under his belt as he preps to stare down mighty Alabama for a spot in the national championship game.
[btn-post-package]
?He has taken every rep, with the ones and twos,? said offensive tackle Taylor Decker. ?I definitely think he is going to be ready for any and all situations that he is going to face in the game. I think he is getting really comfortable with his checks and reads, not that I know a lot about quarterback, but he just seems more comfortable.
?He has gotten all kinds of reps since training camps. We run just as many reps with the twos as we do with the ones. So, he has seen a lot of the looks. He has played against a lot of different defenses. He just hasn?t gotten to do it on a big stage until the Big Ten Championship. And I think the way he performed then is a testament to how he has taken those reps seriously throughout the season.?
What else is any player-Buckeye or Crimson Tide-supposed to say? Well, let?s go ahead and say it if no one else will: Cardale Jones may be in trouble.
He?s the ultimate X-factor for Ohio State in its quest to dump No. 1 Alabama in this national semi-final playoff game on Thursday night in the Mercedes-Benz Superdome.
?Personally, this is the biggest game, hands down,? said Jones. ?It?s a one-game season, the first ever college football playoff. This is the game that goes to the national championship, so it is the biggest game.
?It?s humbling (to be starting in this game), because this is a point in my career that I always wanted to be at. Then again, we still have to get the job done as far as winning this game goes.?
The 6-1, 250-pound sophomore looked spectacular the last time out in his first start, engineering a 59-0 drubbing of Wisconsin in the Big Ten title game. Jones earned game MVP honors by hitting 12-of-17 passes for 257 yards with three touchdowns and no turnovers. Few outside of the Ohio State locker room saw that coming.
So, that brings us to the Big Easy and the big stage that is this Sugar Bowl. Questions about Jones persist. How good is he? Was his effort vs. the Badgers legit? Will he buckle under the pressure? Will the weight of expectations bury him?
?He is working hard, he?ll be ready,? said Ohio State offensive coordinator Tom Herman.
Will the playbook be scaled back for Jones?
?No, it won?t,? said Herman. ?He?ll have the same plays to execute that any of our other quarterbacks would have.?
Herman does point out that there are two keys for Jones: 1. He needs some early success. 2. He can?t have too much on his plate.
?Saying we don?t want him to overthink things isn?t accurate,? said Herman. ?We just don?t want to ask him to do too much.?
To that end, it will help if the Buckeyes are able to run the ball behind Ezekiel Elliott, who rushed for a career-high 220 yards in the conference championship game to push his season total to 1,402 yards. Everyone in the Superdome on Thursday night will know Ohio State needs to establish Elliott and the rushing game. Alabama surely will be ready with extra help toward the line. That would throw the game into Jones? lap. And, despite his heroics vs. the Badgers, the Tide probably wants to see Jones do it again.
Ohio State is at this point because two-time Big Ten offensive player of the year Braxton Miller suffered a season-ending shoulder injury in training camp. Then, J.T. Barrett suffered a season-ending ankle injury vs. Michigan after a breakout redshirt freshman season that saw him earn All-Big Ten honors.
A month ago, Jones was a mostly forgotten third-string quarterback who never had to wash his uniform. Perhaps his biggest claim to fame was being from the same high school (Glenville in Cleveland) that produced the likes of ex-Buckeye greats Ted Ginn, Jr., and Troy Smith. Now, Jones is under the glare of great expectations.
Buckeye running back Ezekiel Elliott has faith in Jones.
?It?s just kind of the mentality of our team; you know just the brotherhood of trust,? Elliott said. ?We?ve been through so much together, through thick and thin. He proved himself at the Big Ten championship. We?re going to do whatever we can to keep him comfortable. We don?t want him to feel like he has to do too much and he won?t have to do too much. All he has to do is spread the ball around and we have to keep him comfortable in the pocket.?
And know this about the Alabama defense: It?s not a vintage Crimson Tide unit under Nick Saban. This defense has bled some yards. The secondary, in particular, can be picked on. Aside from Landon Collins, the defensive backs are largely pedestrian. Jones has a strong arm, showing touch and accuracy on several deep tosses in the Big Ten title games.
?He reminds me of Mississippi State quarterback Dak Prescott,? said Alabama corner Cyrus Jones. ?He?s a big guy who you have to wrap up when he runs the ball. He also has a strong arm. I was impressed with what I saw on film of him.?
Can Cardale Jones-the most unlikely key player when the season began–deliver another big performance with the stakes even higher? Ohio State?s season depends on it.
| | |
| --- | --- |
| About Tom Dienhart | BTN.com senior writer Tom Dienhart is a veteran sports journalist who covers Big Ten football and men's basketball for BTN.com and BTN TV. Find him on Twitter and Facebook, read all of his work at btn.com/tomdienhart, and subscribe to his posts via RSS. Also, send questions to his weekly mailbag using the form below and read all of his previous answers in his reader mailbag section. |
And if you want to leave a comment on this post, use the box below. All comments need to be approved by a moderator.