BTN.com staff, BTN.com staff,

December 7, 2014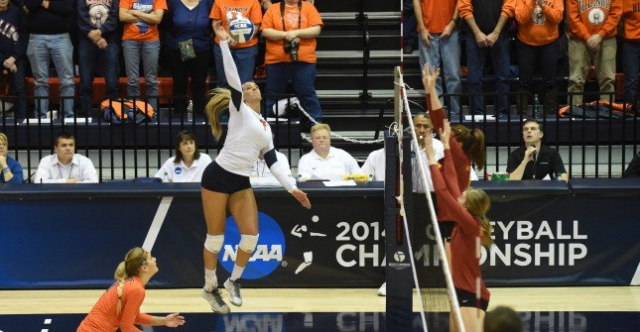 The 2014 NCAA volleyball tournament has reached the Sweet 16, and five Big Ten teams remain alive.
Illinois, Nebraska, Ohio State and Penn State joined Big Ten champion Wisconsin in the regional semis with impressive victories Saturday night.
[ MORE: View the official interactive NCAA bracket ]
Three of the teams (Ohio State, Penn State and Wisconsin) are all in one region. In fact, the Badgers and Buckeyes face off for a berth in the Elite Eight.
Catch up on all of the action below.
ILLINOIS 3, IOWA STATE 0 RECAP
The #9-seed Fighting Illini punched their ticket to NCAA Regionals for the fifth time in six years with a dominating performance against Iowa State in the second round of the 2014 NCAA Tournament. Junior outside hitter Jocelynn Birks was nearly unstoppable, crushing 23 kills.
NEBRASKA 3, UTAH RECAP
The 14th-seeded Nebraska volleyball team outlasted a tough Utah squad in a five-set thriller Saturday night at the Devaney Center to advance to an NCAA Regional for the 20th time in 21 seasons.
OHIO STATE 3, KENTUCKY 1 RECAP
In front of a blue-clad crowd, the #18 Ohio State women's volleyball took out the host #13 Kentucky Wildcats (27-6) in four sets (23-25, 25-18, 25-18, 25-19) to advance to the Sweet 16.
PENN STATE 3, DAYTON 0 RECAP
Fifth-seeded Penn State women's volleyball (32-3) advanced to the NCAA regional semifinals with a straight set victory (25-20, 25-18, 25-16) against Dayton (30-6) Saturday evening at Rec Hall.
WISCONSIN 3, ILLINOIS STATE 0 RECAP
It was an extra sweet victory for the Wisconsin volleyball team Friday night in the UW Field House. The fourth-seeded Badgers swept Illinois State 25-17, 25-19, 25-19 at home to clinch a spot in the Sweet 16.