Brent Yarina, BTN.com Senior Editor,

October 28, 2014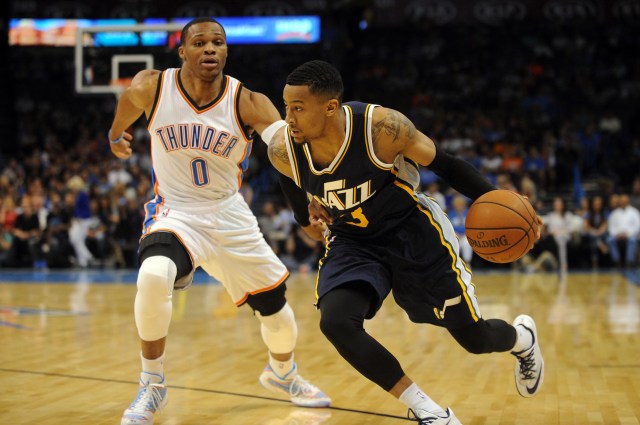 If you're a sports fan, you're in luck tonight. There's Game 6 of the World Series and the release of the inaugural College Football Playoff Poll. Not enough? OK, the 2014-15 NBA season also tips off.
That means it's time to take a look at the former Big Ten stars on NBA rosters.
In all, according to realgm.com, there's 32 ex-Big Ten players, from nine Big Ten schools, in addition to three pros from Maryland.
It shouldn't come as a surprise that Michigan State (7) and Michigan (6), two teams with a lot of success in recent years, boast the most Big Ten pros.
Don't have an NBA team but like to root for the Big Ten? Memphis is your team, featuring four former Big Ten players, headlined by Mike Conley (Ohio State) and Zach Randolph (Michigan State).
Here's the full list, once again according to realgm.com.
ILLINOIS (2)
Meyers Leonard, Portland
Deron Williams, Brooklyn
INDIANA (4)
Eric Gordon, New Orleans
Victor Oladipo, Orlando
Noah Vonleh, Charlotte
Cody Zeller, Charlotte
IOWA (2)
Reggie Evans, Sacramento
Devyn Marble, Orlando
MARYLAND (3)*
Steve Blake, Portland
Alex Len, Phoenix
Greivis Vasquez, Toronto
MICHIGAN (6)
Trey Burke, Utah
Jamal Crawford, Los Angeles Clippers
Tim Hardaway Jr., New York
Mitch McGary, Oklahoma City
Glenn Robinson III, Minnesota
Nik Stauskas, Sacramento
MICHIGAN STATE (7)
Alan Anderson, Brooklyn
Shannon Brown, Miami
Draymond Green, Golden State
Gary Harris, Denver
Adreian Payne, Atlanta
Zach Randolph, Memphis
Jason Richardson, Philadelphia
MINNESOTA (1)
Kris Humphries, Washington
OHIO STATE (4)
Mike Conley, Memphis
Kosta Koufos, Memphis
Jared Sullinger, Boston
Evan Turner, Boston
PURDUE (3)
Robbie Hummel, Minnesota
Carl Landry, Sacramento
E'Twaun Moore, Chicago
WISCONSIN (3)
Devin Harris, Dallas
Jon Leuer, Memphis
Greg Stiemsma, Toronto
* — These players played at Maryland when it was a member of the ACC