BTN.com staff,

September 13, 2012

Week 2 was a rough one. Not only did the Big Ten lose six non-conference games for the first time since 2000, it went 1-6 against BCS teams. Of the half-dozen teams that lost, which enters Week 3 with the most sense of urgency? BTN.com senior writer Tom Dienhart and BTN.com web editor Brent Yarina debate that topic in this post.

Brent: It?s got to be Wisconsin, right? I mean, this was supposed to be the team that would have a cakewalk to its second consecutive Big Ten title game. And two games in, the usually prolific offense looks lost and a coach already has been fired.

Tom: I think it?s Nebraska. Bo Pelini is in his fifth season in Lincoln. This was supposed to be a breakthrough season, with the Huskers challenging for the Legends title and Big Ten championship. But the debacle in UCLA casts doubt on how good this team is.

[Related: Read Dienhart's Best of Week 3 | Dienhart's 12 questions for Week 3]

Brent: Sure, but Wisconsin takes on a 2-0 Utah State team, which just upset rival Utah, while Nebraska hosts Arkansas State. Another reason for urgency: Utah State has limited the Utes and Southern Utah to a total of 152 rushing yards. Yes, those numbers could be inflated by facing poor rushing teams, but either way, Wisconsin must get its running game on track – it ranks 101st among FBS teams in that department.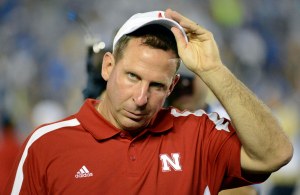 US PRESSWIRE
Tom: The difference between Wisconsin and Nebraska is this-The Badgers have tasted some big success in recent years, coming off back-to-back Big Ten titles. Nebraska hasn?t won a conference title since-Are you ready for this?–1999, when it was in the Big 12. And a Husker defense that was shredded for 653 yards at UCLA will be tested by Gus Malzahn and his Arkansas State attack.
Brent: Definitely, the last thing Nebraska needs is to go up against a Malzahn offense. If the Huskers play anything like they did last week at the Rose Bowl - you mentioned the yards, but what about the 94 plays?! – this game will be in doubt. I just think Wisconsin has more riding on the season, what with defending its back-to-back Big Ten titles and Rose Bowl streak, that it's in more dire need of a bounceback performance. Remember, the Badgers were expected to be Indy. The Huskers, by most accounts, were expected to finish third in the Legends.
[Related Who wins Weeks 3 games? Cast your votes!]
Tom: Yes, few expected Nebraska to win the Big Ten or play in the Big ten title game for that matter. But, again, there still is a need for a ?big? season. Trips to the Alamo Bowl, Outback Bowl, Gator Bowl, etc., are nice. But it?s time for this team to take that proverbial next step. And this is the year. And it begins this week. Nebraska can?t just win. It needs to dominate to gain confidence and get back on track. The Huskers are in a much more competitive Legends Division than Wisconsin, which is in weakened Leaders. That puts even more pressure on Nebraska to ?get it going.?
Brent: Fair enough. I do find it interesting that neither of us picked Penn State, the conference?s lone winless team. I?m not sure there?s a team in the nation that?s more desperate for a win than the Nittany Lions. These guys need something to help boost morale.