BTN.com staff,

July 17, 2012

Now that the Big Ten and Pac-12 decided to put the kibosh on its scheduling plan across all sports, the Big Ten has a decision to make when it comes to future football schedules. Will the conference remain at eight conference games, or will it move to nine? Prior to the previous announcement with the Pac-12, it looked like the Big Ten was entertaining the latter.

BTN.com senior writer Tom Dienhart and BTN.com web editor Brent Yarina give their separate thoughts on the merits of an eight- and nine-game conference slate in this post. Tell them what you think the comments below or send your thoughts for a future Big Ten Reader Mailbag at the end of this post.

Brent: I fully understand a nine-game conference schedule yields one better game for every team and that the Pac-12 has experienced success with such a setup. Also, I'm all for teams improving their schedules. But let's achieve that goal through the part of the schedule teams, you know, schedule: the nonconference slate.

Enough with the MAC foes and the FCS cupcakes, the time has come for better out-of-conference tests. I don't even want to think about what a nine-game conference slate would do to the already vanilla nonconference schedules. So, athletic directors, lose the numbers for the Indiana States and Eastern Kentuckys of the world and get to working on enticing home-and-home series against BCS foes.

As it is, Big Ten schedules are unbalanced enough. For example, Michigan State and Nebraska, of the Legends Division, will play Ohio State and Wisconsin, two of the top Leaders Division teams, for a second consecutive season, while Legends Division rival Iowa trades Ohio State and Wisconsin for Indiana and Purdue. That's hardly fair.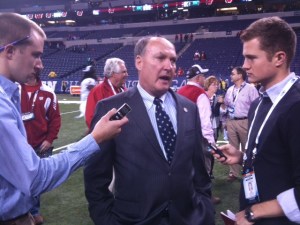 BTN
Now, in a proposed nine-game conference slate, imagine if the teams face those opponents in a year when the Spartans and Huskers play four home/five away and the Hawkeyes play five home/four away. It almost becomes more about who a team plays and how many home dates it has than who's the better team.
So much of college football already comes down to teams' schedules. Just take a look at Georgia, which misses LSU AND Alabama for the third consecutive season. How many SEC teams would kill for that draw? A nine-game conference season would stack the cards even more against certain teams, particularly in years when a team has four home/five away dates.
The goal is to find the best team, the one that emerges with the best record among a conference that plays a similar schedule. It's a lot easier to get that done when every team plays the same number of home/away dates.
Tom: Four non-conference games are too many. Want proof? Just look around. Schedules are dotted with many, many games vs. FCS foes-or teams from lesser leagues.
Fans don?t like that. TV folks can?t be thrilled by it. And the committee that one day will choose the four teams for the impending playoff certainly will frown upon soft non-league games.
A remedy? A nine-game league schedule.
That?s the Big Ten?s best option since its scheduling partnership with the Pac-12 fell apart. Prior to that arrangement, the Big Ten already was primed to play a nine-game league slate.
Now, it should revisit that model-and adopt it. Why? The Pac-12 has been playing a nine-game league schedule. And the world hasn?t collapsed, nor has the conference imploded. In fact, the Pac-12 has produced some of the nation?s top teams in recent seasons, including an Oregon squad that played for the national championship after the 2010 season.
Yes, a nine-game league schedule creates the quirkiness of some schools playing five conference games at home and four on the road in a season, with others playing four league games at home and five on the road in the same season.
So what? It?s an unavoidable quirk that tends to balance out over time.
A nine-game Big Ten schedule would make for a more ?true? champ by playing the additional game as one less team is avoided. It also would give more meaning to division champs who have to battle through that extra conference tilt to get to the Big Ten championship game.
And-perhaps most importantly–the additional league game would in most instances enhance the schedule quality of every Big Ten squad more so than a non-conference tilt vs., say, a MAC foe.
Schools still would have three non-league openings to schedule strong opponents-or cupcakes–if they wanted to further enhance their schedule strength.
So, you see, it?s a no-brainer: Go to a nine-game league schedule, Big Ten. You won?t regret it.
Here's what Big Ten fans had to say on Twitter:
BTN.com senior writer Tom Dienhart is on Twitter and Facebook, all of his work is at btn.com/tomdienhart, and you can subscribe to it all via his RSS feed. Also, send questions to his weekly mailbag using the form below.
And if you want to leave a comment on this post, use the box below. All comments need to be approved by a moderator.