Brent Yarina, BTN.com Senior Editor,

June 13, 2012

CHICAGO — There was a time when the Chicago Blackhawks games weren't broadcast locally and the team played in front of a sparsely filled United Center. The season was 2007-08. Four years and one Stanley Cup later, the Blackhawks are one of the hottest tickets in hockey. Much of the credit goes to social media, said Adam Kempenaar, director of new media and creative services for the Blackhawks, Wednesday at the BTN Social Media Summit.

"It doesn't hurt to try something we hadn't done before," Kempenaar said about using social media to build the Blackhawks brand.

"Now, I don't even worry about [selling] tickets."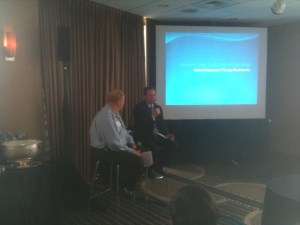 How'd they do it? The new regime didn't hurt, nor did the improved product on the ice. But Kempenaar doesn't downplay the impact social media played in making the Blackhawks relevant again.
"We didn't even have our Twitter handle (@NHLBlackhawks) anywhere in the stadium," Kempenaar recalled about the team's early social media endeavors. "Which was ridiculous."
The team's handle was added, and as is the case with so many people in the social media world, Kempenaar and the Blackhawks became better and better at it the more they used it. One of the many keys to their success: make fans feel like part of the team. Not only that, but craft tweets, posts, whatever it may be, that create interest.
Like this one:
The way the tweet is crafted makes users want to click it. After all, it takes a well-known professional athlete, asks what he used to look like and provides a tease, as opposed to something generic like, "See what players looked like on draft day." The tactic worked, because the tweet was retweeted more than 50 times and "favorited" 25 times.
BIGGER PRESENCE EVERY YEAR: All the speakers Wednesday agreed there are more athletes on social media with every passing year. Two main reasons were discussed: 1.) social media is a constantly growing entity; and 2.) it's much more popular among adolescents, meaning each freshman class yields more social media users than the one before.
And that's where things get tricky.
"There is an education process there now," Adam Kempenaar said. "We tell [our players], whatever you're saying on Twitter, treat it like something you'd say to the media in the locker room."
The consensus from the group of Big Ten representatives: "We educate, but most of [our student-athletes] are already on it."
TWITTER ON CAMPUS: How do Big Ten athletic departments view social media, particularly Twitter? Of the schools represented Wednesday in Chicago, Wisconsin was the only one that encourages its student-athletes to use Twitter. For the most part, it's a coach-by-coach thing. For example, Matt Painter doesn't allow Boilermaker basketball players to be on Twitter during the season.
THERE'S A PLACE FOR EVERYTHING ON SOCIAL MEDIA: Responsible for football content and it's not football season? It can be a helpless feeling. Minnesota found a way to cater to its fans during the offseason by unveiling its new football uniforms on social media. The school used Twitter, Facebook and YouTube to create intrigue, excitement and buzz about its new look.
The final product was impressive. Watch the YouTube video below:
TAKE ADVANTAGE OF BIG EVENTS: Wisconsin went to its second consecutive Rose Bowl this past football season, and its social media push at the "Grandaddy of Them All" further built its already strong brand. From unveiling Wisconsin's special Rose Bowl uniforms to covering Rose Bowl photo day and the team's eating abilities at the Beef Bowl to providing in-game updates, the Badgers delivered 13,629,678 impressions and garnered 5,896 new fans/followers.
…AND OF BIG INDIVIDUAL MOMENTS: Nowadays, people don't just watch sporting events. No, they have their smartphone, tablet or laptop with them for the duration of the game. And when there's a big moment, such as a highlight-reel dunk or a Hail Mary, people turn to social media to discuss it. Pat Coyle, of Coyle Media, referenced one of Blake Griffin's recent gravity-defying slams and used a chart to display the Twitter reaction to it. Let's just say, it didn't take someone with 20-20 vision to find the sudden spike on the chart that measured the number of tweets from pregame to postgame.
FANS SELL THE EXPERIENCE: Been to a sporting event recently? If you own a smartphone, chances are you took a picture of the stadium or playing field. And if you're a social media nut, you probably shared the picture on Facebook, Twitter or Instagram.
You know, something like this:
If so, you're doing the team a great service, according to Pat Coyle, the author of the tweet above, because you're helping it sell the game experience. Think about it, if you see one of your friends post a photo or video of Jump Around at Camp Randall Stadium, it sells Wisconsin football.
Brent Yarina is a web editor and blogger for BTN.com. Find all of his work here and follow him on twitter at @BTNBrentYarina.